My family visited Carlsbad Caverns many times when I was growing up, and I have been wanting to share a little bit of the magic that I remembered from my childhood with my own kids.  Visiting Natural Bridge Caverns has been on my bucket list for a long time, and we finally got to cross it off this last week!
Natural Bridge Caverns currently has four tour options available: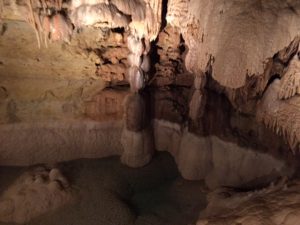 Discovery Tour – 75 minute tour where you can see awe-inspiring, ancient formations centuries in the making and still growing today, such as amazing stalagmites, stalactites, flowstones, chandeliers and soda straws.
Lantern Tour –  75 minute tour using cave lanterns, available only at 9 am
Hidden Passages Tour –  70 minute tour gives guests an up-close view of rare and delicate cave formations illuminated by a state-of-the-art lighting system and includes a total darkness experience
Discovery Adventure Tour – 3-4 hour tour, explore the Discovery Passages the way the discoverers did in the early 1960's on this incredible tour that allows you to follow the path that the original discoverers took. This tour includes a half mile through wild cave and passages that have not changed since the caverns' discovery.
We took the Discovery Tour, which is the original tour, and you travel 180 feet below the ground.  The total distance traveled during the tour is only 3/4 of a mile, but when our tour guide explained that you are doing the equivalent of going down 18 floors and traveling back up 18 floors, it put things into perspective!
When you arrive at Natural Bridge Caverns, you can purchase your tour tickets at the Visitor's Center.  During the summer months, they have tours leaving frequently, and we were able to join a tour that was leaving just 15 minutes after our arrival.  The Visitor's Center also has a concessions stand, restrooms and water fountains, and a gift shop.  My kids found lots of treasures in the gift shop and would have stayed there even longer if I would have let them.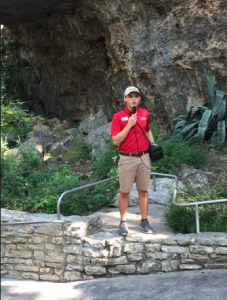 Our tour group had approximately 30 people, and our tour guide told us that on weekends, which is their busiest time, the groups can have up go 60 people.  You have a tour guide for the duration, and ours did a great job of explaining the history of the caverns, details about how different formations were made, and also pointed out key "landmarks" so to speak.  He was informative, engaging, and funny and it went by very quickly!  You will also have an opportunity to take a group photo with a beautiful backdrop that you can purchase for $12 (keep in mind that prices may change) at the end of the tour.  NOTE:  Our tour guide did mention that on the weekends when there are more people, they have tour guides in each of the bigger rooms rather than with individual groups (another reason to go during the week if you can!)
My kids absolutely LOVED this experience!  They saw some amazing formations and it was completely different from anything else we've ever done.  They spent a couple of hours as our road trip continued researching the caverns and different formations!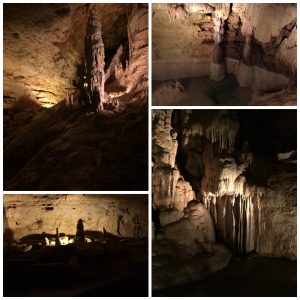 According to their website, the tour is only 3/4 of a mile, but it can be a bit strenuous.  Going down into the caverns was not bad, but coming back up was a work out!  There is a point where you have to climb 35 steps and I remember thinking once we were done with that, the worst of it was over.  Boy was I wrong!  That is followed by a steep, winding incline! I will say that it was totally worth it, but it was a wake up call for me that I need to get in shape. If you have asthma, definitely make sure you bring an inhaler along. They do a great job of having "breaks" in between strenuous periods and there are benches and even water fountains at some points.  Our tour guide checked in frequently to make sure everyone was doing OK.
Their site gives a disclaimer that "strollers are not recommended."  I cannot imagine trying to navigate with a stroller.  If you have younger children, you may want to wait until they are a bit older unless you are comfortable carrying them for part of the way.  With the exception of one specific spot at the beginning of the tour, you also cannot touch any of the cavern walls or formations.  They do have hand railings throughout the tour, but if you have a rambunctious or curious toddler or preschooler, it may be difficult to keep them from touching things, and a distraction to try to keep up with them, too.  This is a great tour for older children, though.  My kids are 9 and 12 and loved every bit of it!
Here are some of my tips:
Arrive early – the temperature in the caverns when we were there was 80 degrees (according to our tour guide) and it was HUMID.  If you visit during the summer months when it's warmer, you will walk out sweating!  Plus, if you arrive early, you beat the crowds, especially if you decide to visit on a weekend.
Visit on a weekday if you're able too
Wear good walking shoes – there are some steep inclines and there is water dripping throughout the tour, so the ground is slick
Bring a camera with a flash – you'll want to take pictures because the views are gorgeous!
You can bring water, and there are also water fountains available midway through the tour.  Food is not allowed.
Bring a cooling towel to stay cool!
In addition to the cavern tours, they have added a number of other experiences.  My kids were BEGGING to go on the Canopy Challenge Adventure course, but unfortunately, we just didn't have time this trip.  You could easily make a day trip out of this, and unfortunately, we had only allotted a few hours.
Canopy Challenge Adventure Course – a 4-level, 60 foot high challenge course and zip lines! Climb, navigate and hang while secured from a safety harness before you "zip" over the Hill Country on one of 4 zip lines.
AMAZEn' Ranch Round Up – unique Texas attraction that's fun for all ages. Our one-of-a-kind maze experience was built to honor 5 generations of ranch ownership history in the Natural Bridge Caverns family.
Gem & Fossil Mining – Pan for gems, minerals and fossils like miners panned for gold at the Natural Bridge Mining Company.
Discovery Village – Enjoy  new food, beverage and retail spaces along with a beautiful courtyard.
Prices for these additional experiences start at $5.99 for children and $9.99 for adults.  Natural Bridge Caverns is open year round and opens at 9 am during the summer!
We will definitely be returning to check out some of the other tours (hopefully I will be in better shape next time) and hopefully my kids will have time to check out the Canopy Challenge Adventure Course and some of the other activities.

If you're planning to make the trip soon, don't forget to grab your money-saving coupons! You'll save $2 off adult Discovery Tour tickets and $1 off a Child's Discovery Tour tickets!  They expire on 8/31/2016.
Have you been to Natural Bridge Caverns?  What did you think?
DISCLOSURE:  My family and I were provided with free tickets for the Discovery Tour in exchange for this review.  All opinions are mine.