Can you believe it's July already? All month we'll be talking "Christmas in July." My goal for this year is to save for a 100% Cash Christmas. If you have a similar goal, it's coming up fast than you think and it's time to kick it into gear if you're going to be ready! All month, I'll be sharing ideas to help you stash some extra cash for your Christmas spending.
This week, I'll be focusing on survey sites that pay. Completing surveys is one easy way to earn a little bit of extra Christmas cash, but nothing is more frustrating that signing up with a survey site and then being turned down every time you try to apply for one of their open surveys. I'm sharing some survey sites that I have had great experiences with and also sharing the details on how they "pay."
Epoll ~ Epoll is a survey site where you earn points for completing surveys. The points can then be redeemed for gift cards (Amazon, Target, Best Buy, Pay Pal, Olive Garden, etc.). The surveys are relatively quick and easy to complete and typically deal with TV shows or actors/actresses.

MySurvey ~ I have been with My Survey for almost six years now. You earn points for completing surveys and in the past, you could cash out the points for a check (in $10 increments) or merchandise. Just recently, they added the option of cashing out for gift cards, too, and I love it! Some of the gift cards that they offer are: Amazon, Paypal, CVS, and Bath and Body Works. They also offer gift cards for restaurants such as Applebee's, Chili's, and Cracker Barrel. They will send you "screeners" which are usually worth 5-10 points and if you qualify for the survey, they will let you know how many points that is worth and about how long it will take to complete the survey. I have also done product tests for them. Overall, it is a great site! If you haven't already, check it out!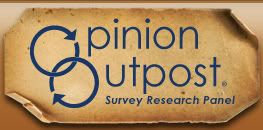 Opinion Outpost ~ I just joined Opinion Outpost on March 12th and it is definitely my favorite survey site right now! In the past, they offered Amazon gift cards as a "reward" but for new members, they only offer cash rewards. Every 10 points you earn from completing surveys is worth $1 and you have to have earned a minimum of $5 to cash out. Since March 12th, I have earned $103.40 from completing surveys with them. I usually get two or three survey offers each day and the surveys are usually fairly quick and easy to complete. They are worth varying amounts ranging from 8 points to 50 points (based on what I have completed so far). You can learn more about Opinion Outpost in this post here.
Don't forget that Swagbucks has also added a "trusted surveys" feature so you can increase your Swagbucks earnings by completing surveys with them, too!
Are there other survey sites that you have had good experiences with or do you have other ideas for saving cash for Christmas? Feel free to comment or link up with those ideas and any other Thrifty Thursday tips you may have!
Do you have another Thrifty Thursday tip to share? Feel free to link up below!
For more Thrifty Thursday ideas, check out Coupon Teacher, Madame Deals, and Life as a Mom.

*This post may contain affiliate links. Please refer to my disclosure policy for more information.