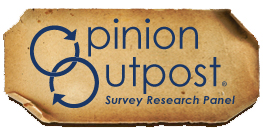 Almost three years ago, my husband and I took Dave Ramsey's Financial Peace Universityclass and began using a "cash only" system.  The last two years, we have used cash and gift cards that we've earned throughout the year to pay for our Christmas.  I can't tell you what a relief it was to not be bombarded by credit card bills in January right when our property taxes and Homeowner's association fees are due!
If you'd like to save for a "cash Christmas" this year, it's not too late!  There are still plenty of ways that to earn some extra cash and gift cards for the holidays if you start now! For the next 30 days, I'll be highlighting ways that you can stash away some extra cash!  Check out previous posts from the 30 Ways to Save for a Cash Christmas series here.
Opinion Outpost is another survey site, and my personal favorite!  They will send you links when you potentially qualify for a survey.  Complete the screener and if you qualify, you will be able to complete a longer survery and earn points. You earn points for completing surveys and for every 50 "opinion points" you earn, you can choose to cash out for a check, a $5 Amazon gift card, a $50 Restaurant.com gift card, or a $5 Citibank pre-paid credit card.  I joined last March and earned $272 just for completing surveys throughout the year last year!
If you are not familiar with Opinion Outpost, here's some more information about it:
How it Works
Once you register, you will receive e-mails about potential surveys you may qualify for.  When you click on the link, you will have to answer a few quick "screener" questions.  If you qualify forthe survey, you will then be directed to the survey.  If you don't qualify for the survey, sometimes they will ask you if you want to see if you qualify for any other surveys.  Other times, you will be directed to a link where you can enter an instant win game to win $50.
As you complete surveys, you get a certain amount of reward points.  These points correlate to dollar amounts.  For example, 10 points is equal to one dollar.  From my experience, most surveys range from 10 to 30 points each, but I have completed a few 50 point surveys, an 85 point survey, and a 100 point survey.
To ensure that you qualify for more surveys, I recommend filling out all of the information in the "Member Profiles" section.  There are ten different areas – consumer, general, health, household technology, leisure & activities, personal finance, personal vehicles, professional, shopping, and travel.
Cashing Out
To "cash out" click on the "Rewards" link on the left of the page.  This will show you what your current accumulated award balance is.  Once you accumulate $5, you are eligible to cash out.  This is a much lower threshold than other companies require for cashing out.  You can cash out for a check, an Amazon.com code (sent instantly to your e-mail address), a Citi gift card(virtual or physical), or a Restaurant.com gift card.
If you haven't checked out Opinion Outpost yet, you really should!
*This post may contain affiliate links. Please refer to my disclosure policy for more information