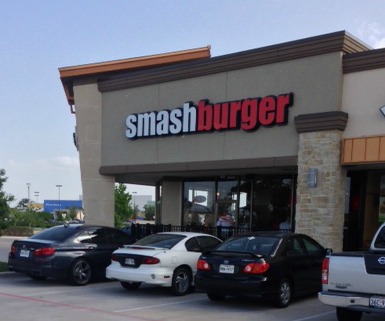 I have been hearing great things about Smashburger for a few years now, but there were no locations near me, so I hadn't ever checked them out!  When I was given the opportunity to attend a Smashburger VIP party at the new Katy, TX location that opens today, I jumped on it!
THE SMASHBURGER MENU
We were given the opportunity to try ANYTHING on the menu! There were SO many options on the menu and I was completely overwhelmed!  The salads looked amazing, and there were some great chicken sandwich options, too, but when I go to a burger place, especially for the first time, I want to try a burger!  I settled on the Truffle Mushroom Swiss burger because I love mushrooms!  I have also heard that the sweet potato fries are awesome, so I had to try them!  It was a tough call, though, because the Smashfries, which are tossed with rosemary, olive oil, and garlic, also sounded AWESOME.
My kids didn't have any trouble making a choice!  They both wanted cheeseburgers and fries!
SMASHBURGER REVIEW

We were not disappointed!  My son, who is 6, loudly proclaimed that his burger was "The BEST BURGER EVER!"  He went a step further and said he loves it more than a local sandwich place, which has been his favorite place to eat out for awhile now.  I guess he really enjoyed his burger!  He also loved the chocolate and strawberry milkshakes that we got to try and he enjoyed the iPad that was rolling around on a scooter!
I loved my mushroom burger!  It was so much better than traditional "fast food" and also better than mushroom burgers I have had at casual dining locations, and the pricing is a lot better, too!  The sweet potato fries were great, too, and I loved the strawberry shake with real chunks of strawberries!
If you're in the area, make sure you check out the NEW Smashburger in Katy, TX!  It's located off Pin Oak in the shopping center on the left just before I-10.  If you're not in the area, but you have a Smashburger near you, definitely check it out!
Make sure you also sign up for money-saving coupons!  Join the Smash Club to get the heads up on promotions and coupons by e-mail!  You can also text SMASH to 21333 to get a free shake on your birthday and the heads up on other offers!
DISCLOSURE:  I attended the Smashburger VIP party and my family and I were allowed to try free food to spread the word about the new Smashburger!  All opinions are 100% mine!  Please refer to my disclosure policy for additional information.