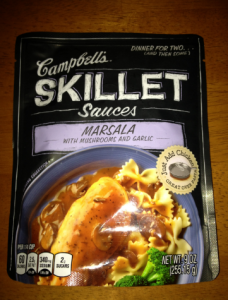 Growing up, we always had dinner as a family.  Now that I have my own family, I continue to believe in the importance of eating dinner as a family, but sometimes between work and two kids, by the time we get home, it's hard to find the energy to cook.  Campbell's Skillet Sauces makes it easy to throw together a "home cooked" meal in about 20 minutes!
I recently had the opportunity to try Campbell's Skillet Sauces!  I was provided with four different sauces to try and I chose the Marsala for my family because I love Chicken  Marsala, but I don't get it often because we don't eat out very often these days and I haven't found a recipe that I've really been impressed with to try to make it myself.
You literally can throw together a meal in minutes!  All you have to do is cook the chicken and then add the sauce and let it simmer for a few minutes!  It only took about 20 minutes to make everything and it gave me just enough time to cook some pasta to serve as a side!  The packets say that they contain two servings and I have a family of four, so I decided to cut up my chicken to stretch it further.  We actually had leftovers!
I was impressed by the rich, tangy taste and I love that they had generous-sized mushrooms, too.  It was hard to believe that this meal had come from a pouch!  My kids, who are usually picky eaters (including my son who doesn't even like mushrooms) ate everything without complaint and my daughter said she loved it.
Campbell's Skillet Sauces are available in the following flavors:
Creamy Chipotle
Fire Roasted Tomato
Marsala
Scampi
Thai Green Curry
Toasted Sesame
If you're always on the go, but want to have dinner with your family, these Campbell's Skillet Sauces are a great quick fix choice!  I want to try the Toasted Sesame next, but my husband really wants to try the Thai Green Curry.
These sauces are available at your local grocery store and they retail for about $2.49 each.  Right now, you can get a coupon for $1 off here–> $1 off Campbell's Skillet Sauces printable coupon  
Which Campbell's Skillet sauces would you like to try?  If you tried them already, let me know what you thought!
DISCLOSURE:  This is a sponsored post.  Campbell's supplied me with the Campbell's Skillet Sauces so I could post about my experience.  All opinions are my own.  Please refer to my disclosure policy for additional information.