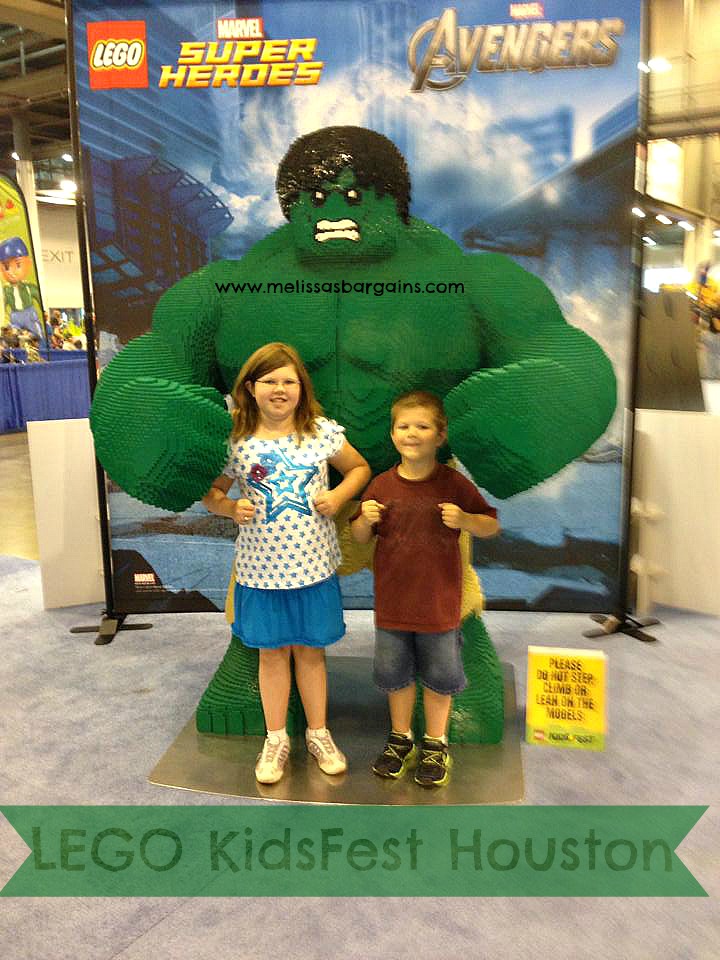 My son LOVES LEGOs® and I had been planning to take him to LEGOLAND® Discovery Center in Dallas this summer, so when the opportunity presented itself for us to attend LEGO® KidsFest in Houston, (especially since we were getting free tickets) I couldn't turn it down!
I honestly didn't know what to expect, especially since my husband wasn't going to be able to go with us.  I guess I viewed LEGOs® as more of a "guy" thing and figured I'd just be along for the ride.  One of the things that impressed me right from the start was that this is definitely a family experience!  I loved seeing big kids and little kids, moms and dads, and even in some cases grandmas and grandpas working together on different activities!  The entire experience is interactive and I think I had as much fun as the kids did!  Families participated in challenges together, played LEGO® games together, and built together!  In a time where I most often see parents entertaining themselves on their cell phones or tablets at kid friendly places, I can honestly say that the only time I saw parents on their phones here was to take pictures of their kids having fun!

I LOVED seeing my two kids work together to help each other on different activities!  They were so proud of themselves when they finished making these LEGO® keys (and I think my little guy was especially proud because he helped his big sister finish hers) and they loved being able to use them to "open" the treasure chest to get their own special surprise!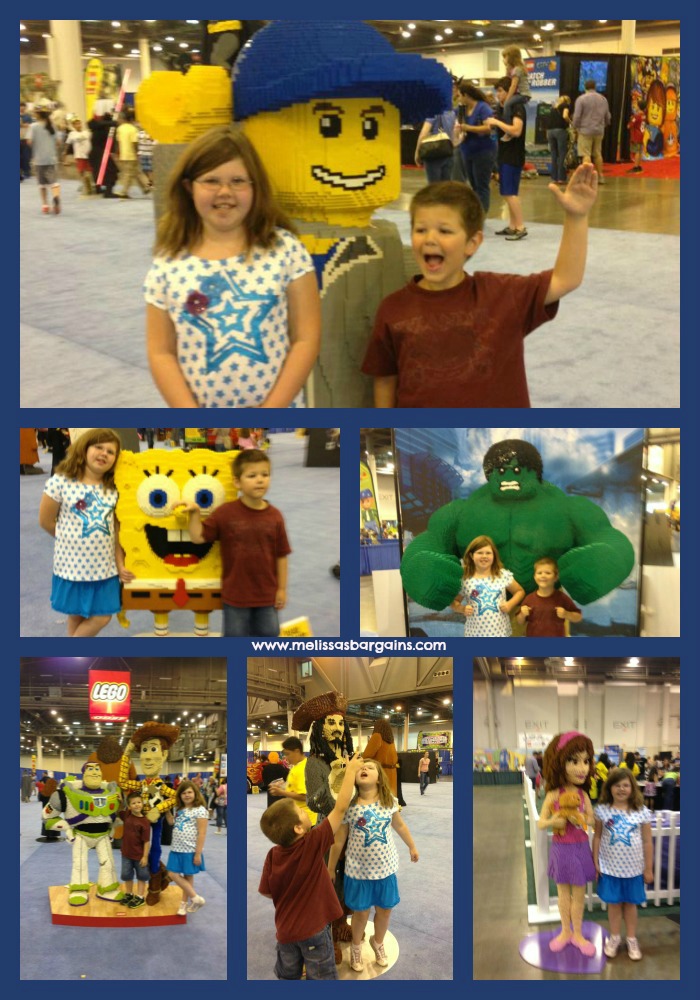 One of the things my kids loved was being able to see some of their favorite characters larger than life!  The detail of the displays in the LEGO® Model Museum area was INCREDIBLE!  They had Marvel action heroes, characters from Toy Story, Star Wars favorites, and even characters from Harry Potter!

Making LEGO® "snow angels" was fun, but the kids decided that being buried in LEGOs® was even MORE fun!  The LEGO® Brick Pile was a favorite with MANY kids!
I wasn't familiar with LEGO® Chima, but my kids had a blast with them and my son informed me that some of his birthday money will be used to purchase some!  If you're brave enough to wait out the lines at the  LEGO® Chima Arena, you have the opportunity to show off your skills and compete against others and I noticed they were giving away free sets to people as they were leaving!   My son was also fascinated by the LEGO® Master Builders and informed me that he was going to be one when he grows up!  My daughter loved the LEGO® Friends building area (my son even enjoyed that because the LEGO® Friends have so many tiny accessories and other options that other LEGO® sets don't have!)  They also loved being able to add their creations to the LEGO® Art Gallery!
If you haven't been to LEGO® KidsFest before, here are some tips:
Buy your tickets in advance:  The Houston event was sold out before it even started!  If you procrastinate, most likely you won't get tickets!
Arrive early:  There is SO much to see and each area takes time!  We were there for 3 hours and still didn't see everything we would have liked to.
Feed your kids before you go:  There is food available there, but who wants to stop and spend time eating when there is so much to see and do?  Plus, if your kids are fed, you're less likely to have whining and meltdowns!
Watch your kids:  There are a LOT of people and it only takes a second to lose track of your kid.  There are Lost Parents Meeting Spots, but you really don't want to have to use them!
Have a game plan before you go:  You can view a map and a list of activities online before you go.  Try to prioritize your activities because you probably won't have time to see and do everything.
If you have a LEGO® KidsFest coming to your area, it's DEFINITELY worth checking out!  If you have a LEGOLAND® or LEGOLAND® Discovery Center in your area or an area that you will be visiting, I'd say that's worth checking out, too!  Our trip to  LEGO® KidsFest earned me the "best Mom EVER" title for the night at least and we made some great memories together!  This has been my favorite interactive kid experience since we went to Disney World as a family last summer!
*DISCLOSURE:  I was provided with a family pack of tickets to attend LEGO® KidsFest, but all opinions and experiences are 100% mine!  Please refer to my disclosure policy for additional information!