Here's my Target Top Under $1 deals of the week. Keep in mind that pricing may vary by area. Always check your local ad to confirm that they have the "weekly deals."   Make sure you check out the changes to the Target coupon policy here.  Also, Target printables can disappear VERY quickly (sometimes within a few hours), s0 make sure you print the ones you want as soon as they come out!
Get Text Alerts from Target: receive coupons, deals, and weekly ad reminders on your mobile phone – use a barcode that can be scanned at check-out for multiple one time only coupon deals throughout the month.  The text alerts for mobile coupons appear to be released on Sundays and appear to be valid for one week only (when the new round is released on Sundays, the old round disappears)
Now, you can save 5% when you use your Target Red Card.
Target now offers price matching. You can check out their policy here.  
At Target, you can use one Target coupon and one manufacturer's coupon per item.  Theprintable Target coupons now state "one per transaction" meaning you can only use one "like"coupon per transaction. The Target coupons from the inserts do not have this wording and neither do the Target toy coupons. You can read/print their coupon policy here.
They are also offering a .05 credit when you bring in your own reusable shopping bag!
Regular Markdown Schedule in other Departments
Monday – Electronics, Kids Clothing and Stationary (Cards, GiftWrap, etc.)
Tuesday – Domestics, Women's Clothing, Pets and Market (food items)
Wednesday – Men's Clothing, Toys, Health and Beauty, Lawn & Garden items
Thursday – House Wares, Lingerie, Shoes, Sporting Goods, Movies, Music, Books, Decor and Luggage
Friday – Auto, Cosmetics, Hardware, & Jewelry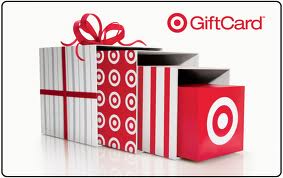 Here is an unadvertised gift card offer:  Buy Biore Strips and Cleanser, get a $5 Target gift card
SCENARIO:
Buy Biore Pore Strips (6-8 ct) – $5.99
Buy Biore Cleanser – $5.89
Use FREE Biore Cleanser when you buy Biore Pore Strips coupon – 8-12 SS
Spend $5.99 OOP, get a $5 Target gift card
Final Price = $.99 after coupon and gift card (there is also a $1 off Biore Facial Care item Target coupon from a home mailer, so if you have this, everything is FREE after gift card and coupons!)
NOTE:  This offer MAY be regional.  If there is not a sign posted at your store, make sure you scan the items first to see if the gift card offer appears
FREEBIES: 
Hershey's Simple Pleasures – $2.99
$1/1 Hershey's Simple Pleasures Target printable
$2/1 Hershey's Simple Pleasures – 8-19 SS insert
Final Price = FREE after coupons!
Mt. Olive Relish Jar (8 oz) or Squeez Bottle (10 oz) – $.89 – through 9/8
$1/1 Mt Olive pickles, pepper or relish – 8-26 SS
Final Price = FREE after coupon
NOTE: amounts for gift card may vary
Neutrogena Make-Up remover cleansing towelettes (7 ct) – $1.97
$2 off Neutrogena face product coupon
Final Price = FREE after coupon (I found these by the registers in my store)
Stayfree Ultra Thin Regular Pads with Wings (18 ct) – $2.89
$2/1 Stayfree product – 8-26 SS
$1/1 Stayfree feminine care item Target coupon – 8-26 SS
Final Price = FREE after stacked coupons
Up & Up Panty Liners  – $.99-$1.04
$1/1 Up & Up Feminine Care Product coupon (sort by personal care)
Final Price = as low as FREE after coupon
UNDER $1 DEALS:
Bull's Eye BBQ sauce – $1.39
$1/2 Bulls Eye BBQ sauce Target coupon
Final Price = $.89 each after coupon (when you buy 2)
Campbell's 50th Anniversary soup cans – $.75 each
$1/5 Campbell's Condsensed soup printable
Final Price = $.55 each after coupon
Carefree liners – $.99
Use $.50 off Carefree liners coupon
Final Price = $.49 after coupon
Colgate Total Advanced Whitening toothpaste – $2.84
$1/1 Colgate Total Target coupon
$1/1 Colgate toothpaste – 8-26 SS
Final Price = $.84 each after coupons
Garnier Fructis shampoo or conditioner – $2.99
$1/1 Garnier Fructis shampoo, conditioner, or treatment printable
$1/1 Garnier Fructis shampoo, conditioner, or treatment 7-29 RP, 8-26 RP
$1/1 Garnier Fructis hair care item Target printable
Final Price = $.99 each after coupon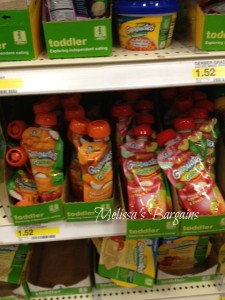 Gerber Graduates Grabbers – $1.52
$.75/1 Gerber Graduates Grabbers printable
Final Price = $.77 each after coupon
Jell-O Pudding or gelatin (4 ct) – 2/$4
$1/1 Jell-O Ready to Eat Snack Target printable
Final Price = $1 each after coupon
NOTE: Remember you can only use 1 "like" Target coupon per transaction
Juicy Juice Fruitfuls (8 ct) – $2.25
$1/2 Juicy Juice Target coupon
$1/1 Juicy Juice coupon (must register)
Final Price = $.75 each after coupons
Keebler Cinnamon Roll Cookies – $1.99 to $2.59
$.75/1 Keebler Cookie pack Target coupon – 7-29 RP
$.70/1 Keebler Cinnamon Roll cookies printable (use zip 15213)
Final Price = $.54 after coupons
Knorr Pasta or Rice Sides – $1.02
$.50/2 Knorr Side dishes Target printable
Final Price = $.77 each after coupon
Kraft salad dressing – $1.99 to $2.14
$1/1 Kraft salad dressing Target coupon
$1.00 off when you buy any TWO (2) KRAFT Dressings 16 oz.
Final Price = as low as $1.98 for two after coupons ($.99 each)
Kraft BBQ sauce – $1.02
$.50/2 Kraft BBQ sauce – 8-19 SS
Final Price = $.72 each after coupon (when you buy 2)
LA Looks Sport Gel (20 oz) – 1.94
$1/1 LA Looks – 8-19 RP
Final Price = $.94 each after coupon
Market Pantry Fruit Snacks – $1.89
$1/1 Market Pantry Fruit Snacks Target Mobile coupon (one time use)
Final Price = $.89 each after coupon
Meow Mix cat food – $.49 each
$1/6 Meow Mix cat food – 8-5 RP
Final Price = $.32 each after coupon (when you buy 6)
Michelina's Entrees – $.95 each
$1/5 Michelina's printable
Final Price = $.75 each after coupon (when you buy 5)
Buy 3 boxes of Nabisco crackers – $2.39/each (this included Triscuits, Ritz, Wheat Thins, and Chicken in A Biscuit at my store)
Use Nabisco Crackers Buy 2, Get 1 free coupon
Use $1 off 2 Nabisco crackers Target coupon
Final Price = $3.78 OOP ($1.26 per box)
Up & Up dryer sheets (40 ct) – $1.37
$2.50/2 Up & Up laundry care items Target printable
Final Price = $.12 each after coupon (when you buy 2)
Yoplait yogurt cups – 10/$5
$.40/6 Yoplait yogurt cups printable
$.50/8 Yoplait yogurt cups – 9-9 SS
Final Price = as low as $.40 each (when you buy 6)
Zevia Natural Soda (6 pk) – 3/$10
$3/1 Zevia all natural soda – 7-22 SS
Final Price = $.33 each after coupon
(Thanks Totally Target!)
*This post may contain affiliate links. Please refer to my disclosure policy for more information