Here's my Target Top Under $1 deals of the week. Keep in mind that pricing may vary by area. Always check your local ad to confirm that they have the "weekly deals."   Make sure you check out the changes to the Target coupon policy here.  Also, Target printables can disappear VERY quickly (sometimes within a few hours), s0 make sure you print the ones you want as soon as they come out!
Get Text Alerts from Target: receive coupons, deals, and weekly ad reminders on your mobile phone – use a barcode that can be scanned at check-out for multiple one time only coupon deals throughout the month.  The text alerts for mobile coupons appear to be released on Sundays and appear to be valid for one week only (when the new round is released on Sundays, the old round disappears)
Now, you can save 5% when you use your Target Red Card.
Target now offers price matching. You can check out their policy here.  
At Target, you can use one Target coupon and one manufacturer's coupon per item.  Theprintable Target coupons now state "one per transaction" meaning you can only use one "like"coupon per transaction. The Target coupons from the inserts do not have this wording and neither do the Target toy coupons. You can read/print their coupon policy here.
They are also offering a .05 credit when you bring in your own reusable shopping bag!
Regular Markdown Schedule in other Departments
Monday – Electronics, Kids Clothing and Stationary (Cards, GiftWrap, etc.)
Tuesday – Domestics, Women's Clothing, Pets and Market (food items)
Wednesday – Men's Clothing, Toys, Health and Beauty, Lawn & Garden items
Thursday – House Wares, Lingerie, Shoes, Sporting Goods, Movies, Music, Books, Decor and Luggage
Friday – Auto, Cosmetics, Hardware, & Jewelry
Here's my "top pick" for this week at Target!  Even though it's not under $1, you're paying just $1.08 for some household staples!

You can get FREE Wonder bread when you buy Oscar Mayer lunch meat and Kraft Singles cheese slices!  You can get everything for just $3.24  after coupons!
Here's the breakdown:
Buy Wonder bread – $1.99
Buy Oscar Mayer lunch meat – $2.79
Buy Kraft cheese – $2.45
-$1.99 (free Wonder bread store promotion)
–$1.00 off when you buy any ONE (1) package of OSCAR MAYER Deli Fresh Cold Cuts
–$1.00 off when you buy any ONE (1) package of KRAFT Singles
Final Price =$3.24 for everything!
That's just $1.08 per item and you're paying less than $5 for several days of school lunches! (depending on the size of your family
FREEBIES:  
Hershey's Simple Pleasures – $2.99
$1/1 Hershey's Simple Pleasures Target printable
$2/1 Hershey's Simple Pleasures – 8-19 SS insert
Final Price = FREE after coupons!
Neutrogena Make-Up remover cleansing towelettes (7 ct) – $1.97
$2 off Neutrogena face product coupon
Final Price = FREE after coupon (I found these by the registers in my store)
Papermate pens (10 ct) – $1
$1 off Papermate writing instrument Target printable
Final Price = FREE after coupon
Reach dental floss – $.97 each
$1 off 2 Reach dental floss coupon
$.75 off 1 Reach dental floss Target store coupon – 7-29 J&J insert (use 2)
Final Price = FREE after coupons
NOTE: The Target coupon may have been regional
Up & Up Panty Liners  – $.99-$1.04
$1/1 Up & Up Feminine Care Product coupon (sort by personal care)
Final Price = as low as FREE after coupon
UNDER $1 DEALS:
Aquafresh Kids toothpaste Bubblemint or Fresh 'n Fruity flavors – $1.70 (on sale through 8/25)
$1/1 Aquafresh toothpaste Target coupon
Final Price = $.70 each after coupon
Chobani Champions Greek Yogurt (4 ct) – $2.48
$1/1 Chobani Champions Greek Yogurt printable
$1/1 Chobani Champions Target printable
Final Price = $.48 each after coupons
Danimals Crunchers (4 ct) – $2 each (through 8/25)
$.75/1 Danimals Crunchers printable (Facebook)
$1/1 Danimals Cruncher Target coupon
Final Price = $.25 each after coupon (my kids LOVE these in their lunches!)
Dial liquid hand soap – $.99 to $1.27
$1/3 Dial liquid or foaming hand soap – 8-19 RP
Final Price = as low as $.66 each after coupon when you buy 3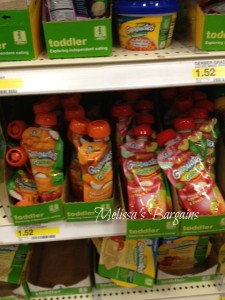 Gerber Graduates Grabbers – $1.52
$.75/1 Gerber Graduates Grabbers printable
Final Price = $.77 each after coupon
Gerber Organic 2nd Foods Pouches $1.32
–$0.75 off 1 Gerber Organic Pouch Product
Final Cost $.57 each after coupon
Heinz Easy Squeeze ketchup (20 oz) – $1.39 (on price cut through 9/8)
$.50/1 Heinz ketchup coupon – 8-19 SS
Final Price = $.89 each after coupon
Herbal Essences Totally Twisted Mousse, shampoo, or conditioner – 2/$5
$3/2 Aussie or Herbal Essences products – 8-5 RP
Final Price = 2/$2 after coupon ($1 each)
Honest Tea – 5/$5 (through 9/1)
$1.25/2 Honest Tea coupon (scroll down to bottom of page)
Final Price = $.37 each after coupon (when you buy 2)
Ken's Light Options Dressing (9 oz) – $1.36 (on price cut through 9/8)
$1/2 Ken's dressing – 8-12 SS
Final Price = $.86 each after coupon (when you buy 2)
Kraft BBQ sauce – $1.02
$.50/2 Kraft BBQ sauce – 8-19 SS
Final Price = $.72 each after coupon (when you buy 2)
LA Looks Sport Gel (20 oz) – 1.94
$1/1 LA Looks – 8-19 RP
Final Price = $.94 each after coupon
Market Pantry Fruit Snacks – $1.50
$1 off Market Pantry Fruit Snacks coupon (look under the back to school tab)
Final Price = $.50 after coupon
Mark Pantry tomato or chicken noodle soup – $.64
$.75/3 Market Pantry condensed soups coupon
Final Price = $.39 each per can ater coupon (when you buy 3)
Oral B Stages Disney toothbrush – $2.06 (on sale through 8/25)
$1/1 Oral B Stages Target printable
$1/1 Oral B Stages manual toothbrush – 7-29 PG
Final Price = $.06 after coupon
Oral B Stages Disney toothpaste (4.2 oz) – $2.28 (through 8/25)
$1/1 Oral B Stages Target printable
$1/1 Oral B, Crest Pro Health Stages or Crest Kids toothpaste – 7-29 PG
Final Price = $.28 after coupon
Ore Ida easy fries – $.99 to $1.29
$1/3 Ore Ida products – 8-19 SS
Final Price = as low as $.67 each after coupon (when you buy 3)
Scotch Magic Tape – $.49
$.50/1 Scotch Magic Tape Target coupon
Final Price = FREE after coupon
*This post may contain affiliate links. Please refer to my disclosure policy for more information