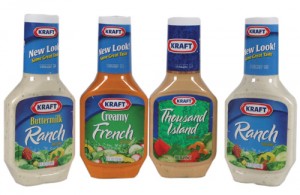 Kraft has released a new Target printable coupon here for $1/2 Kraft salad dressing!  Pair that with the Buy 2, Get 1 free coupon that Target has for Kraft salad dressing and the $.55/1 Kraft printable you've got yourself a great deal!
Here's the breakdown on this deal:
Buy 3 Kraft salad dressings – $1.69/each
Use 3 $.55/1 manufacturer's printable coupon (you will need access to 2 computer to print this many)
Use B2G1 free Target coupon (-$1.69)
Use $1/2 Target printable coupon
Spend $.73 OOP ($.24/each!)
I found the $1/2 Target coupon under the zip code 78660 when I sorted by "Foods."  Hurry and grab yours before it's gone. It won't last long!  PLEASE NOTE:  YMMV on using the B2G1 free and the $1/2 together since Target's coupon policy changed.  I'm not sure how that will work out, but I'm going to go today to test it out.
Plus, here are two yummy summer salad recipes to help you use up all this salad dressing you're buying!
Chicken Spinach Bow Tie Pasta Salad ~ I got this recipe from What's on My Menu and it has become a favorite for potlucks and family gatherings!
Ingredients:
baby spinach
grilled chicken
bow tie pasta
pesto
feta cheese
toffee glazed almond accents
diced tomatoes
-make the dressing by mixing equal parts Italian dressing and Caesar dressing
Taco salad ~ This is a pretty basic recipe that my mom used to make all of the time when I was a kid – it sounds a little bit strange, but when you mix it all together, it's yummy!
Ingredients:
Iceberg lettuce, shredded
Tomatoes
1 can light red kidney beans, drained
Ground beef, browned (I mix mine with a little bit of taco seasoning as I cook it)
Corn tortilla chips (crushed)
Shredded cheddar cheese (8 oz bag)
Thousand Island salad dressing (chilled)
Mix all ingredients together and serve.
(Thanks Totally Target!)
*This post may contain affiliate links. Please refer to my disclosure policy for more information