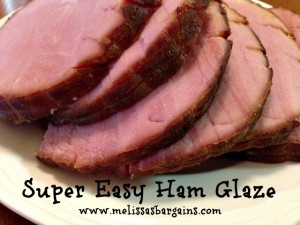 I've been spoiled because my parents usually cook Easter dinner, but they were out of town this year, and I was left to my own devices! This is a super easy ham glaze that I used and it was so yummy!
Super Easy Ham Glaze!
Prep time:
Cook time:
Total time:
Super Easy ham glaze recipe
Ingredients
1 ham (I used a Hormel Cure 81 boneless ham)
1 cup packed brown sugar (light or dark should work)
2 tablespoons Dr. Pepper (or any other cola drink)
1 tablespoon yellow mustard
Instructions
Line a large pan with aluminum foil.
Score the top of the hand by making diagonal cuts across the top. Place ham in the center of the foil.
Mix together the Dr. Pepper, brown sugar, and mustard, and brush half the glaze over the top.
Wrap the ham up in the foil and bake for 20 minutes per pound at 350 degrees.
Open the foil and brush the remaining glaze over the top. Bake 20-30 minutes longer.
Remove and allow to cool for 10-15 minutes. Slice and serve!