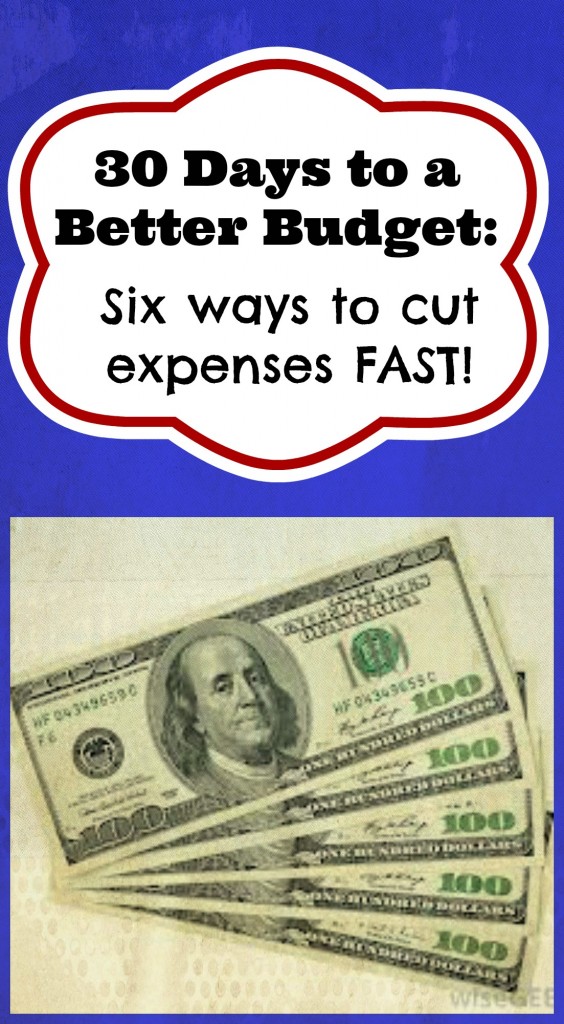 A few times a year, my husband and I decide to re-evaluate our budget to see where we can cut expenses.  We just did this and we were surprised at how much we were able to save!  In about an hour's time, we managed to cut $270 from our monthly expenses, which is $3,240 per year!!
1.  Shop around for car insurance – It doesn't cost anything to get quotes and you may find that you can cut expenses considerably by shopping around.  My husband and I ended up sticking with our original insurance provider after they matched a rate from another provider.  We saved $108 per month by doing this!  That's almost $1300 per year!
2.  Get new quotes for homeowner's insurance – You can also get free quotes for homeowner's insurance.  Sometimes you can get discounts when you bundle your car insurance and homeowner's insurance together.  By shopping around, we were able to get BETTER coverage and we're saving $33 per month!
3.  Cut cable expenses – Contact your cable provider and see what other plans are available.  Consider dropping to a basic cable plan or dropping cable altogether.  You can get Netflix for $9 per month or Redbox streaming for $9 per month!  Both offer free 30 day trials so you can see if it's "right" for you!  The Redbox plan also includes 4 free Kiosk rentals per month!  We contacted our cable provider and we were able to save $60 per month by switching to a different cable package!
4.  Get rid of your landline – We were paying $30 per month for a "basic" (no frills like caller ID or anything else) landline!  We are rarely home and the only calls we really received on our landline were from telemarketers.  We decided to use our cell phones only and cut the landline.  If you're not ready to get rid of your landline altogether, get a Magic Jack and you'll pay just $29.95 for a full year of service!
5.  Check out your cell phone plan – When is the last time you checked out your cell phone plan?  New options may have been added and you may be able to find a more affordable plan.  Also consider all the "extras" you have on your account.  Are you getting the most bang for your buck?  My husband and I are both on the go a lot and use the internet a lot, so unfortunately, there wasn't a lot we could do to cut expenses in this area, but we did bundle our phones into a family plan and that helped us to save some money.
6.  Cut meat one meal a week – By cutting meat out of one meal per week, you can save $10-$15 per week, which equates to $40-$60 per month or $500-$700 per year!  Instead of meat, find a favorite pasta dish, have a baked potato and salad bar, or maybe even have breakfast for dinner instead!  I have been surprised to find that my family actually enjoys this simple meals more than some of the more expensive things I make!
What are some other ways that you have cut expenses in your family's budget?
This is the 6th post in my 30 Days to a Better Budget series!  You can see all the posts here–> 30 Days to a Better Budget