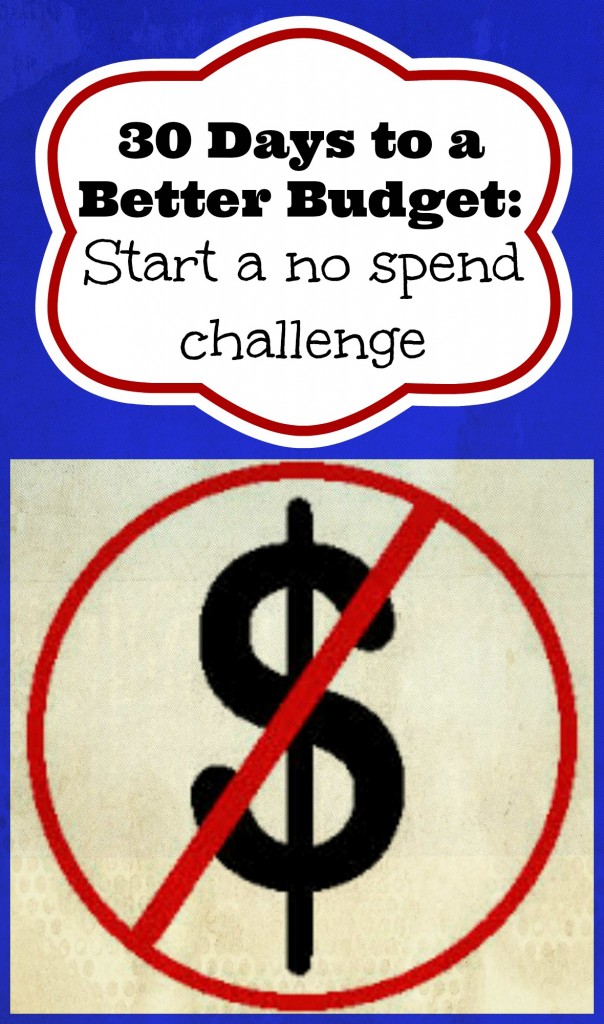 This month, I'm focusing on helping you (and me) get your finances in order! Last week, I talked about the 52 week savings plan, which is a way that you can save almost $1,400 in a year by adding small amounts each week and also about starting a change jar. Another way to save money is a no spend challenge.
What is a No Spend Challenge?
A no spend challenge is just that – you set a goal to not spend money for a set time period!   Sometimes people do this to compensate for an unexpected expense where they need to cut expenses quickly.  Other times, people simply save the money that they would have spent.  This is a great way to jump start an emergency fund if you don't have one yet!
How to start a No Spend Challenge
1.  Define what "no spend" will mean for your challenge:  Does that mean you don't spend money on anything at all?  Maybe you just won't spend money on a specific budget category like eating out or entertainment.  If your no spend challenge involves groceries, too, you may want to make allowances for non-perishable items like milk, eggs, fruits, and vegetables.  If you're married, make sure your spouse is on board with the plan, too!
2.  Decide how long your challenge is going to last:  One week?  Two weeks?  One month?  Choose a realistic timeline, especially if this is your first time!
3.  Decide what you will do with the money you would have spent during the no spend challenge:  Can you put it toward a vacation fund?  Maybe it can be used to buy season passes to a local amusement park for the family!  Maybe you need extra money for back to school shopping or for Christmas.
4.  Figure out how you're going to "save" the money:  For me personally, if I have "access" to the extra money, I will be tempted to spend it.  If the goal of your no spend challenge is to save money, make sure you have a place to save it.  Pull out the money that you would have spent during the allocated time period and put it in a savings account, a savings jar, or somewhere else safe!
Have you ever done a no spend challenge?  How did it work for you?
This is the 5th post in my 30 Days to a Better Budget series!  You can see all the posts here–> 30 Days to a Better Budget