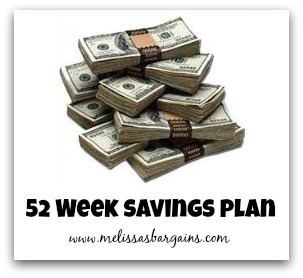 For the past five years, our family has managed to have a 100% cash Christmas.  It is SO nice to not have the worry of credit card bills come January.  We have managed to do this by creatively budgeting and saving throughout the year.  Last January, I discovered a 52 Week Savings Plan and used that money to pay for our Christmas.  A similar plan would also be great if you are budgeting for a family vacation or planning for a major purchase!   You could even use this plan to set up an emergency fund.
Here's a breakdown of how the plan works:  some people choose to start with week 52 so they have less money to put out at Christmas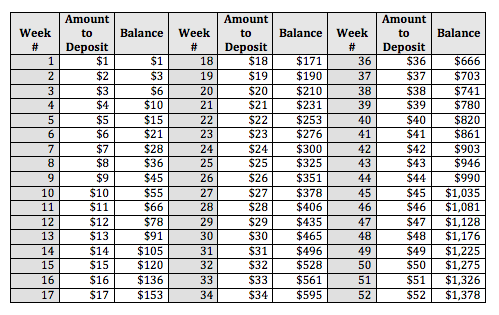 Print your own copy here–> Printable 52 week savings plan
SAVINGS IDEAS
Here are a few things that I plan to do this year to add to my savings:
REBATES/CASH BACK:
Ibotta – if you haven't heard of Ibotta, you get cash back for buying select grocery or personal care items at your favorite grocery or drug stores!  I earned $124 in cash back last year by purchasing products at my local grocery store!  Find out more about Ibotta and register here–> Ibotta Registration
SURVEYS:  these are all reputable survey companies that I have personally used!
This is a quick and easy way to jump start your savings: you'll get your first 9 weeks knocked out without touching your own money!
Jump start your savings with a $50 bonus when you open an 
Capital One 360 checking account.  
I've had mine for several years now!  This is what I use for our Christmas and vacation fund.  This is also where we keep our emergency fund because when we're ready to use it, it's easy to access with our check card!  You can even set up automatic deposits to help save money!
Click here for details–> Earn a $50 bonus when you open a Capital One 360 Checking account
FOOD STORAGE
My other goal this year is to re-build our personal food storage.  I found a few different programs that help you to build up your food storage by purchasing items on a weekly basis.  I think that you have to look at what "works" for you and your family when doing this, but this at least gives you some ideas for getting started!
This list tells you how to build your food storage on $5-$10 per week–> Building Your Food Storage on $5-10 per week
I'll be updating you on my savings progress and food storage progress each week!  I can't wait to hear about your progress, too!
*This post may contain affiliate links. Please refer to my disclosure policy for more information