I'm a HUGE Redbox fan and we head there almost every Friday night to pick out a movie for our family movie night. I'm also a fan of
Netflix streaming
. Now
Redbox Streaming
gives you the best of both worlds! You can get unlimited streaming of your favorite movies and you can get 4 free Redbox kiosk rentals every month, too!  You can have it with you wherever you go, too, because it works on Smartphones (
including the iPhone and Android devices
), tablets, computers, the XBox 360 and Blu Ray Players!  They've got a huge selection of titles including several family friendly titles that I have not seen on Netflix or Amazon Prime!  I can't wait to check it out!
Click here to start your free trial–> Redbox Streaming FREE for one month plus 4 free rentals
Check out what Brandy, one of my readers, said about it:

And when you sign up you get 4 free movie rentals a month from the kiosk:). Awesome deal! I signed up 3 days ago and love it!
If you're looking for FREE Redbox rental codes, you can see a round-up of them here-> Free Redbox rental codes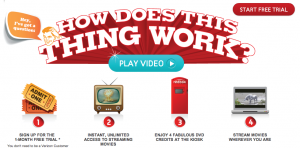 Get a 1-Month Free Trial to Redbox Instant™ by Verizon with a subscription (or "with sign up"). Receive access to a Streaming Library of Hits and 4 DVD Credits every month for rentals at your local Redbox kiosk. Once your free trial expires, membership costs $8 per month plus taxes. That matches Netflix's Unlimited Streaming package.

RedBox Instant by Verizon
1- Sign up for the 1 month free trial
2- Instant, unlimited access to streaming movies
3- Enjoy 4 fabulous DVD credits at the Kiosk
4- Stream movies wherever you are
Looking for more freebie offers?  Click here–> FREEBIES
*This post may contain affiliate links!  Please refer to my disclosure policy for additional information!