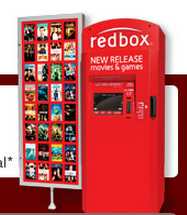 Right now, Redbox is offering 10 Days of Deals!  You get a new offer by text every day!  The promotion runs through 7/23/13, and you can use any of the promotion codes you receive during this time through that date.
Don't forget that you can also get 4 free Redbox kiosk rentals plus a month of Redbox streaming for FREE!  Find out how here–> 4 Free Redbox rentals plus a month of Redbox streaming
Here are some of the codes you may receive:
A 50¢ discount on your first rental day of any disc
$1 off of a 1-day game rental
Rent one DVD and get another one free for your rental day
1.  Text SURPRISE to 727272 for a new code each day!
2.  Redeem your code at your local Redbox kiosk
ee more freebies here–> Freebies
*This post may contain affiliate links!  Please refer to my disclosure policy for additional information!