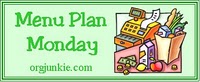 The plan listed here just includes our dinner menu and recipes. I have calculated someWeight Watchers points values using the e-tools Recipe Builder, and points values this week are based on the new Points Plus program! (I will update with points values on the others as we have the meals) 
Here are some FREEBIES to help you get started with menu planning:
Grab a FREE membership to Food on the Table!  Search their database of recipes and choose your favorites.  They'll generate your grocery list based on the best deals in your area.  You can print it or send it to your Smartphone!  It's awesome!  Click here to grab your membership–>Food on the Table subscription FREE for life (use the code SPRINGFREE to get your free membership)
SMART SCHOOL TIME RECIPES: The Breakfast, Snack, and Lunchbox Cookbook for Healthy Kids and Adults [Kindle Edition] (currently free from Amazon for Kindle or your Kindle Reader – pricing can change at any time, so verify before downloading)
If you're new to menu planning or would like tips for getting started, check out this post here.  You can also view hundreds of meal plans each week at Orgjunkie.com
SUNDAY:  Chicken enchilada casserole – This is a recipe that my sister came up with. She uses canned chicken when she makes it. I came up with a little bit of a variation.  It is so easy and kid friendly, too!
Ingredients:
2 chicken breasts (shredded) – or 1 can chicken
1 large can red enchilada sauce
corn tortillas
shredded cheese – I use reduced fat
Directions: (this is what I do) – I put my chicken and the enchilada sauce in the crockpot the night before and then shred it when I get up in the morning. If you are using canned chicken, you can just shred it as you are making the casserole. I spread some of the chicken/sauce mixture along the bottom of the casserole dish so it doesn't stick. Break corn tortillas into four pieces and layer across the bottom of the casserole dish. Spread a layer of the chicken/sauce mixture and cheese. Add another layer of corn tortillas. Continue until you are out of the chicken/sauce mixture. Bake at 350 degrees for 25-30 minutes until the cheese is bubbly.
WW points = 8 points per serving (for 4 servings) – serve w/ green salad and grapes 
MONDAY:  Steak, baked potatoes, pasta salad, and banana pudding!
Banana pudding – it's been WAY too long since I made this for my family. They all love it and I know it will be a nice surprise!
Ingredients:
8 ounces sour cream (I use low fat)
1 (8 ounce) container frozen whipped topping, thawed (I use fat free)
1 (5 ounce) package instant vanilla pudding mix (I use sugar free)
2 cups whole milk (I use skim)
1 (16 ounce) package vanilla wafer cookies
4 bananas, peeled and sliced
Directions:
Combine sour cream, whipped topping, pudding mix, and milk (I use a hand mixer to mix it all well). Layer vanilla wafer cookies in the bottom of a dish. Then, add a layer of pudding, then a layer of bananas. Repeat until all ingredients are used. I cover the top with a layer of whipped topping and crushed cookies.
Pizza pasta salad – I found this recipe on Favorite Family Recipes.  We made it for Memorial Day and it was a hit and so we made it again!
Ingredients:
1 bag colored spiral noodles
¾ c. pepperoni cut into wedges
¾ c. mozzarella cut into small cubes
¾ c. fresh tomatoes, diced
½ c. olives, sliced
¼ c. parmesan cheese
1 bottle Bernstein's Restaurant Recipe Italian Dressing (I'm using Kraft low fat Zesty Italian dressing)
Mix together all ingredients and chill in the fridge for at least 3 hours before serving.
TUESDAY:  Macaroni with beef and cheese – I saw this recipe here on Pinterest and decided to modify it some to make it "quicker" –> Macaroni and beef with cheese (the original looks amazing so you should definitely check it out..what's listed here is my modifications)
Ingredients:
4 8 oz cans tomato sauce
1 15 oz can diced tomatoes
optional seasonings: black pepper, oregano, chopped garlic, italian seasoning
1 lb lean ground beef
1 box macaroni
1 cup each grated cheddar and mozzarella cheeses
Directions:  Make the sauce using the tomato sauce, diced tomatoes, seasonings, and ground beef.  Layer with macaroni and shredded cheese.  Bake at 375 degrees for 30 minutes
WEDNESDAY:  Crockpot chicken and rice (slow cooker)
Ingredients:
2-3 frozen chicken breasts
1 pkg McCormick Zesty Herb chicken seasoning blend (sometimes I substitute the Good Seasonings Italian dressing blend if I have it on hand)
1 can cream of chicken soup
2 c. hot cooked rice
Grated cheese
Tomatoes
Celery
Bell peppers
Place frozen chicken breasts in the bottom of the crockpot. Mix ingredients for McCormick seasoning according to directions on the packet and pour over the top of chicken. Cook on low for five hours. Shred chicken in crock pot using a knife and fork. Add cream of chicken soup. Let cook for one more hour. Service over rice with additional toppings as desired (we add cheese, celery, tomatoes, bell peppers, etc. depending on what we have on hand).
THURSDAY:  Melt in your mouth meatloaf (slow cooker) – Seriously so easy and a family favorite!!
FRIDAY:  BBQ chicken – we'll marinate some chicken breasts in BBQ sauce and throw them on the grill!
SATURDAY:  Sandwiches – We buy hoagie buns and lay out lunch meat, tomatoes, cheese, and condiments!  It's quick and easy and everyone loves it!
*This post may contain affiliate links. Please refer to my disclosure policy for more information