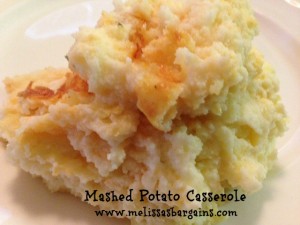 Who doesn't love mashed potatoes?  Every now and then, though, it's nice to have some variation on your traditional mashed potatoes.  I discovered this recipe two years ago when Hoosier Homemade posted it!  It's perfect for Easter, Thanksgiving, or when you need a comfort food fix!
Here's my variation of the recipe:
Mashed Potato Casserole
Prep time:
Cook time:
Total time:
Ingredients
8 oz cream cheese, softened
1 cup Ranch dip
2 eggs, beaten
1 cup milk
2 cups water
½ c. margarine
3 cups instant potato flakes
8 oz shredded cheese
Instructions
Spray 13X9 baking dish with nonstick spray.
In a saucepan, combine the water and margarine and bring to a boil. Remove from heat, add the potato flakes, and mix well.
Beat the eggs, cream cheese, dip, and milk until smooth. Stir in half of the shredded cheese.
Pour the potatoes into the egg and cream cheese mixture. Beat until smooth and then pour into the baking dish.
Bake at 350 degrees for 30-40 minutes uncovered. You can also refrigerate and then bake it later.
I add the remaining cheese on top when I'm ready to serve.