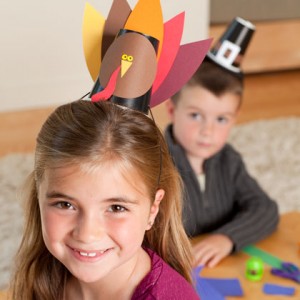 If you are looking for ways to keep your kids entertained on Thanksgiving Day, then here are a few simple, easy to prepare craft ideas just for you.  Thanks to Say Yes to Hoboken for the ideas!
Here is what you need to create the paper cup hats pictured above:
Construction paper
Glue
Paper cups
Any other craft items you might want to glue on the cups (feathers, buttons, pipe cleaners, google eyes, etc.)
Elastic, ribbon or string
Here is how to make them:
Using a sharp pen or pencil, poke a small hole in either side of the paper cup, towards the top.
Push the ribbon, string or elastic through the hole in one side, straight through the cup, coming out the hole in the other side.
Cut feathers, eyes, noses, Turkey bodies, buckles, etc. out of the construction paper
Create an assembly line and let the kids have at it, gluing whatever they want on their hats!  Let them use their creativity to create whatever kind of hat they would like.
When your child is done creating his masterpiece, then place the hat on his head and tie the ribbon/string/elastic under his chin.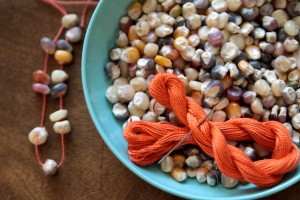 Here is what you need to make Corn Necklaces:
Dried corn kernels – presoak them to soften them up and then use a thick needle to poke holes in each kernel
embriodery floss and a needle or stiff waxed kitchen twine
Here is how to make them:
For older kids, have them use embroidery floss or other string with a needle to string their neclace.
For younger kids have them use waxed kitchen twine or thin string stiffened at the end with glue to string their necklace.
If you have older kids that aren't really into the crafting scene, then Thankgiving games and quizzes might be the better route.  Check out About.com for some really great ideas.