Grandparent's Day will be here soon!  If you're looking for last minute Grandparent's Day gift ideas, here are a few that are budget friendly and easy to make!  If you've already got Grandparent's Day covered, these are great ideas for the holidays, too!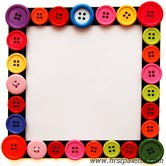 Grandparents LOVE to show off photos of their grandchildren and they also love gifts that are "from the heart."  Kids love crafts with glue and craft sticks!  Your kids will have fun making their own craft stick photo frame and their grandparents will love it!
Find out how to make the frame here–> Craft stick photo frame tutorial  
This hand print photo apron is a bit more involved than some of these other items, so this might be one you want to save for the holidays instead!  I think these are so cute!  They didn't do it in the picture, but I think I would add the grandkids names under their hand prints!
Find out how to make it here–> Hand print photo apron
Today's gift is a tissue paper flower bouquet!  My mother in law and daughter actually made this one when she was here visiting us last summer and had a blast doing it together!  Make a bouquet for the grandparents and give it to them or you can buy the materials and let it be a "bonding" activity instead!
Click here to find out how to make this–> Tissue Paper flower bouquet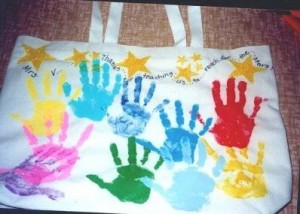 Make a personalized handprint canvas bag!  I thought that this was the cutest idea when I saw it!  You can add each of the grandkid's handprints and their names.
Click here to find out how to make this–> Personalized handprint canvas bag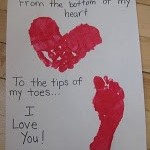 I posted this awhile back for Valentine's Day, but it would be great for Grandparent's Day, too!  Thanks to Tons of Fun for this simple yet very thoughtful gift idea!  If you wanted to dress it up a bit, you could add a frame, too!
Find out more about how to make this yourself here–>Grandparent's Day card idea
Here's another idea for a Grandparent's Day card.  The handprint opens up and you place a cute saying and picture of your kiddo inside.
Find out how to make this one here–> Grandparent's Day hand print card