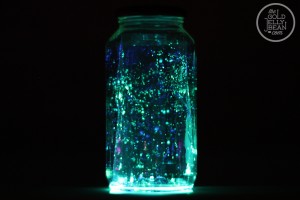 There are glow jar tutorials floating all over Pinterest, but once you start looking into many of them, you realize that your end result most likely will not look like the beautiful picture you see on Pinterest.  The Gold Jelly Bean has tested many of these and found what really works.  My girls could have hours of fun with these!
Here's what you need to make these:
glass jar
glow sticks (you can get them at the dollar store)
rubber gloves to protect your hands
scissors
a piece of tulle (optional)
Here's how to make them -> Glow Jar Tutorial
Here is another awesome glow jar tutorial from From Panka With Love.  The glow in these jars will last much longer, but the special glow paints  can be kind of pricey.
Here's how to make it -> From Panka Glow Jar Tutorial