Hickory Farms and holidays go hand in hand!  When I was growing up, I remember that my family would always visit the Hickory Farms store at our local mall to stock up for our holiday gatherings.  Since I have such fond memories of Hickory Farms and think so highly of the company, I was thrilled when they asked me to partner with them to get the word out about their products!
If you're still looking for that perfect gift for the person who has EVERYTHING, consider a Hickory Farms gift basket!  Hickory Farms offers a variety of specialty foods and holiday food gifts that are perfect for any budget and for everyone on your list this year. It's a name that you can trust and quality and freshness are important to them!  Hickory Farms isn't just for the holidays, either!  My husband has a January birthday, and I always struggle with ideas for birthday gifts since his birthday is so close to Christmas.  A few years ago, I surprised him with a Hickory Farms gift basket, and he loved it (although it didn't last very long!).
This year Hickory Farms has introduced a line of new products called Hickory Farms Reserve. The collection features their premium Dry Aged Salami and 8 all-natural cheeses!  You can't go wrong with favorites like their Hickory Farms Signature Summer Sausage either!  It was recently rated the #1 Summer Sausage in America and I understand why!  I know it is one of my favorites!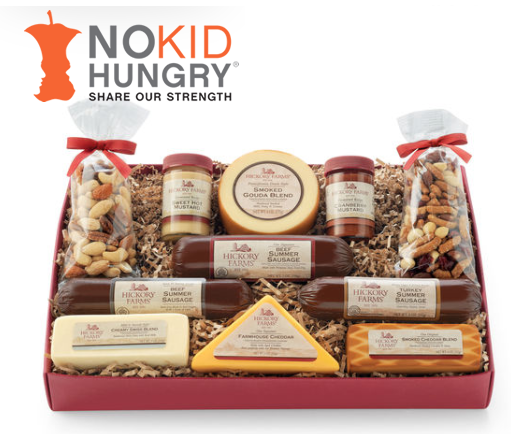 Another thing that I love about Hickory Farms is their commitment to charitable causes!  They currently have a partnershp with Share Our Strength, which is an organization that works to fight childhood hunger.  For each Party Planner Gift Box that they sell this holiday season, they will be donating $5 to Share Our Strength's No Kid Hungry Campaign!  To show their support for the military, they also offer free shipping to APO and FPO addresses for 8 products including the "Home for the Holidays" gift basket and "Beef Hearty Hickory" basket.
You don't even have to leave your home to take advantage of Hickory Farms gift options!  You can order online at Hickoryfarms.com!   You can also find them in 700+ Holiday Market stores and kiosks across North America, as well as in select retailers.
Disclaimer: Compensation and products for review were provided by Hickory Farms via MomTrends. I received a free sample of the product for the purpose of this review and to facilitate a giveaway.  The opinions expressed herein are those of the author and are not indicative of the opinions of Hickory Farms.