*This is a sponsored post on behalf of Hickory Farms and Mom Trends. I received a free sample of the product for the purpose of this review and to facilitate a giveaway. The opinions expressed herein are those of the author and are not indicative of the opinions of Hickory Farms.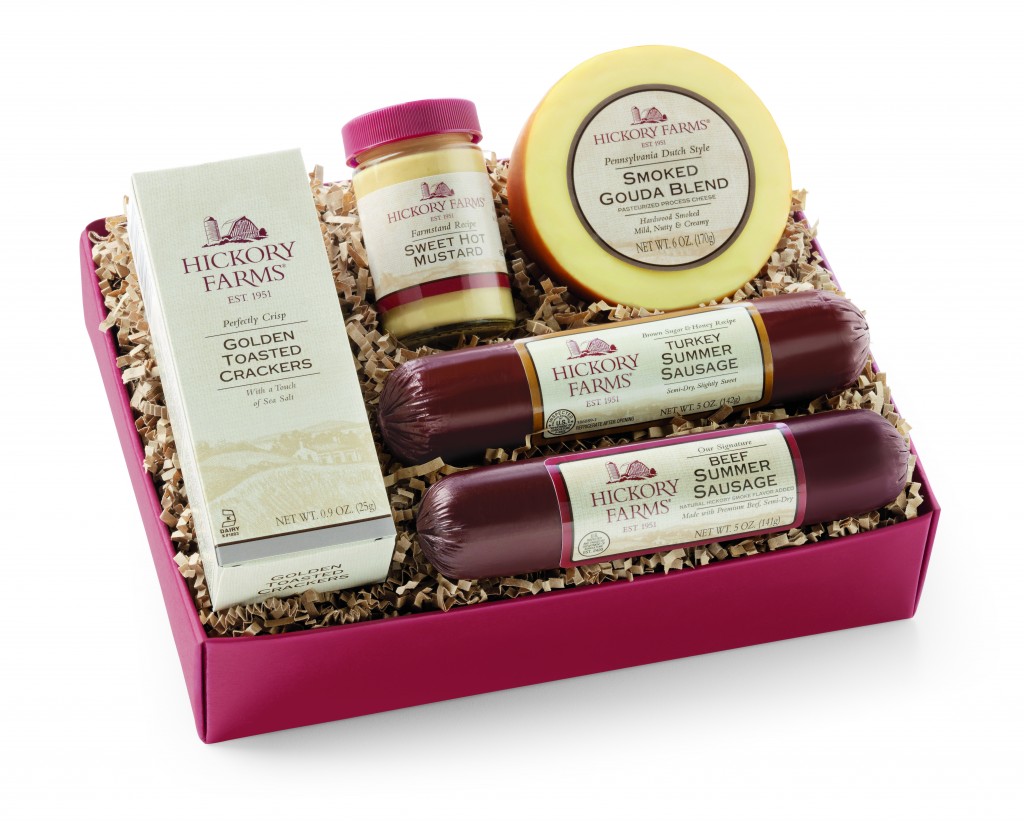 For the past three years, I have had the opportunity to participate in a Hickory Farms review and giveaway during the holidays!  This is something I look forward to EVERY year and I was thrilled when I was asked to participate again!
For more than 60 years Hickory Farms gifts have been a classic holiday tradition that brings family and friends together.  As a child, I can remember visiting the Hickory Farms kiosk at our local mall during the holidays to get cheese balls, beef sticks, and Melt Away Mints for our annual New Year's Eve gathering.   We have continued this tradition in our family and we love to serve the Hickory Farms summer sausage with cheese fondue on New Year's Eve.  Many Americans have a distinct memory of Hickory Farms at their holiday gatherings and Hickory Farms is very proud to be a part of those nostalgic moments and continues to focus on and celebrate its long heritage of tradition and authentic holiday memories.  Hickory Farms not only embraces passing down traditions through generations of families, but also creating new traditions and sharing them with loved ones.
This year, my family received the Beef & Turkey Hickory Sampler pictured above!  I actually had to hide it when it first arrived because I knew that it would be gone before I had a chance to review it if my family got ahold of it!
This sampler pack includes the following items:
Turkey Summer Sausage
Beef Summer Sausage
Smoked Gouda Blend
Sweet Hot Mustard
Golden Toasted Crackers
The Gouda mixed with the summer sausage on crackers is so, so GOOD!  This is a perfect gift for neighbors and is great for family gatherings, too!
Start a Hickory Farms tradition with YOUR family and enter to win a Beef & Turkey Hickory Sampler!  
Hickory Farms Beef & Turkey Gift Basket Giveaway
a Rafflecopter giveaway
Here's where you can get Hickory Farms products for YOUR family:
Online at HickoryFarms.com

In almost 600 Holiday Market stores and kiosks across North America, as well as in select retailers