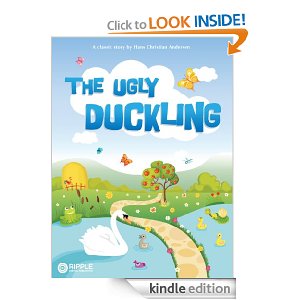 I love my Kindle Fire and I love being able to get free books for my Kindle even more!  Lately, my kids have really been enjoying the free Kindle children's books I have downloaded!  Right now, you can download The Ugly Duckling free for Kindle! 
Click here to grab this freebie–>The Ugly Duckling free for Kindle 
Here are some other free Kindle children's books you can grab right now:  
Goldilocks and the Three Bears
Find even more free books for your Kindle here–>Top 100 free Kindle downloads 
Even if you don't have a Kindle, you can download a FREE Kindle reading app for your Smartphone, iPad, or PC!  Click here–>Free Kindle reading app
PLEASE NOTE:  Pricing on Amazon can change at any time.  These books were all free at the time this was posted, but may not be free at the time you are viewing this post.  Please verify pricing before finalizing your purchase, especially if you have 1-click enabled!!
*This post may contain affiliate links. Please refer to my disclosure policy for more information.