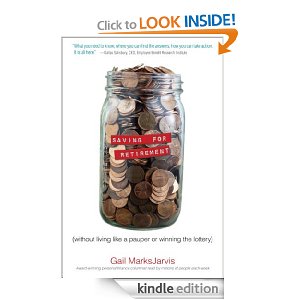 If you're looking for Free Kindle Books, right now you can get Saving for Retirement without Living Like a Pauper or Winning the Lottery free for your Kindle. I got my first Kindle almost 2 years ago and then I got a Kindle Fire for Christmas and I love them both. I love getting free Kindle books, too! I just downloaded this one for myself, too!
"Leading financial columnist MarksJarvis presents the everyman's guide to saving for retirement. The idea of navigating the world of 401Ks and Roth IRAs leaves many people scared, cold, or both. This book will help reduce the confusion, anxiety and avoidance that many people associate with saving for retirement. Informed by thousands of calls and emails from readers over the years, MarksJarvis understands exactly what people want and need to know about managing their personal finances. Here, she provides guidance and answers common questions in an organized and reader-friendly style. Readers will learn how to calculate what they'll need for their nest egg, how to open an IRA, make sense of mutual funds and when to consult a financial advisor. Sensible–but not stuffy–this book will convince young people to start saving now, and will help ensure that panicked middle-aged readers will not be spending their golden years in the poor house." –Kirkus Reports
Click here to get this book–>Saving for Retirement without Living Like a Pauper or Winning the Lottery 
Find more free Kindle downloads here–>Free Kindle downloads
If you don't have a Kindle yet, you can still read for free on your PC, Smartphone, or tablet with these free Kindle reading apps here–>FREE Kindle reading apps 
NOTE: This book was free at the time of this posting.  Pricing on Amazon can chance at any time. Please verify final pricing before downloading this item.