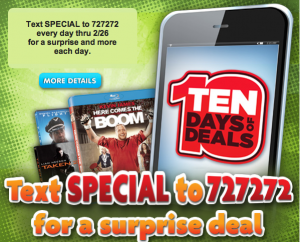 Starting on Monday, 2/18/13, Redbox will have 10 Days of Deals by Text!  This promotion will run through 2/27/13 and you can get a new code by text EVERY day!

Find more free Redbox codes here–> Free Redbox codes 2013
Here's how this works:
1.  Text SPECIAL to 727272 each day to receive the offer for the day
2.  You will receive one of the following offers by text:
A 50¢ discount on your first rental day of any disc
50% off of a 1-day game rental
$1 off of a 1-day game rental
Rent one DVD and get another one free for your rental day
Upgrade from a DVD to a Blu-ray Disc for free for your first rental day
3.  The code can be used to reserve rentals online or using your Redbox mobile app.  Reserve online here–> Redbox reservation
NOTE:  You do not have to use the promo code on the day that you receive it, but you can't use more than one promo code on the same transaction.  All promo codes expire on 2/27/13 at 11:59 p.m. CT.  Late fees will apply if you do not return your movie by 9 p.m. on the day after you rent it.  You will have to use a credit card to finalize your rental.
Find out more about this promotion here–> FREE Redbox Codes: 10 Days of Deals by Text