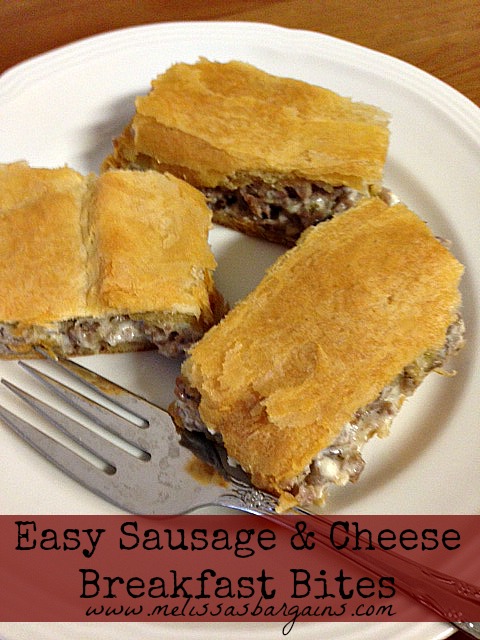 I saw this recipe on Pinterest and had to check it out.  First, it only has 3 ingredients, so how can you go wrong?  PLUS, it has sausage, cheese, and crescent rolls…3 things my family loves!  So again, how can you go wrong?  I made this for breakfast for our family yesterday and everyone gave it two thumbs up!  It was SUPER easy to make, too, which is always a plus for me!  This is a great one for Sunday mornings and would even be great for a Christmas morning breakfast!
See more of my favorite recipes here–> Melissa's Bargains Favorite Recipes on Pinterest
Easy Sausage & Cheese Breakfast Bites
Prep time:
Cook time:
Total time:
Easy Sausage & Cheese breakfast with only 3 ingredients!
Ingredients
1 lb breakfast sausage
1 8 oz package cream cheese (I use ⅓ less fat variety)
2 package crescent rolls (I use reduced fat)
Instructions
Brown the sausage in a pan and then drain. Add in cream cheese and cook until the cream cheese is melted and well mixed.
While the sausage is cooking, preheat the oven to 375 and layer a cookie sheet with aluminum foil (you don't HAVE to do this, but it makes life easier). Unroll the first crescent roll package in the center of the cookie sheet.
Spread the sausage mixture over the crescent rolls. Leave a border around the edges so you can "seal" it.
Once you have the sausage mixture spread out, unroll the second package of crescent rolls over the top and press it to seal.
Bake at 375 degrees for 20 minutes.
Cut into squares and serve.
Note:  This recipe was adapted from The Kitchen is my Playground