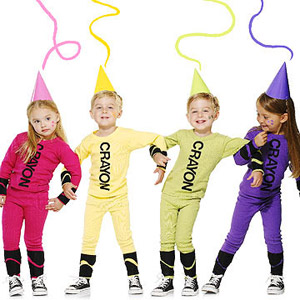 I can't believe that October is already here!  That means there's only 4 weeks left to figure out Halloween costumes for the kiddos.  As a child, I was never really into the whole dressing up for Halloween thing and consequently I tend to struggle every year trying to decide on costumes for my own children.  I am determined not to procrastinate this year and I have found a couple of super cute ideas that just might work.
The first are these super cute, super easy crayon costumes.  I am all about comfort when it comes to costumes and it really doesn't get any more comfy than pj's.  All you need to make these are a set of pj's, adhesive backed black felt sheets and letters, and party hats.  Thanks Parents!
If you are loving this idea too, then here's how to make it -> Crayon Costume Tutorial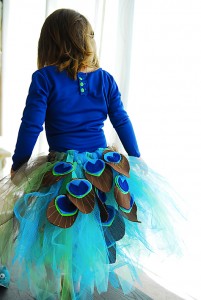 While browsing Pinterest, I fell in love with this Peacock costume!  Tutus are a huge fad  right now.  I have seen endless  tutu costumes for ballerinas, princesses, and fairies, but this is a whole new take on it.  My girls are totally into peacocks right now because of the Barbie Island Princess movie so I know they would all be fighting over who got to actually wear this for Halloween.  I suppose I could always make three.  It isn't all that difficult to make.  If you aren't all that in to peacocks, you could always take the tutu tutorial and modify it to whatever your girls like.  A little pig or spider or even witch would be cute too!  Thanks The Train To Crazy!
Here is how to mak this -> Peacock Costume Tutorial