Do you typically suffer from post holiday stress as your credit card bill start rolling in?  This year, Daily Worth wants to help you get ahead of the holidays by sharing ways that you can save!  Pledge to save for the holidays and you could win $500 in cash for your holiday shopping!  For the past four years, our family has celebrated a "cash Christmas" using tips from sites like  Daily Worth to help save money throughout the year!
Here's how you can enter to win:
After you register and confirm your registration, click here, take the pledge, and enter to win–> Daily Worth Get Ahead of the Holidays $500 cash giveaway
Here are the details: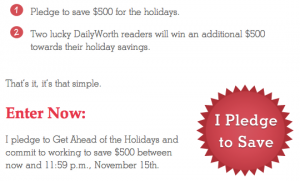 In addition to this great giveaway and other financial tips, they're also giving away getaways to locations like New York City and Napa Valley, so be sure to search for getaways while you're on the site, too!
NOTE:  I have been receiving e-mails from Daily Worth for over a year now.  I get them delivered to my inbox once or twice a week and I love their tips!
See more sweepstakes an instant win games here–> Instant win games
*This post may contain affiliate links. Please refer to my disclosure policy for more information.