This year I am in need of new ideas for how to display my Christmas cards.  The standard resting place on the mantel just isn't cutting it anymore.  If you are in the same boat, then here are three really great ideas that I found.
1) Christmas Card Shutters (pictured above) – This is fairly easy to make and shouldn't take very long.
Supplies needed:
2 wooden shutters (can be found at any home improvement store)
spray paint
To learn how to make it, check out Pearls, Handcuffs and Happy Hour.
2) Christmas Card Garland – This is still fairly simple, but will require a bit more time and supplies.
Supplies needed:
Small wooden clothespins
Acrylic paint & foam brush
Various patterned papers (in Christmas colors, of course!)
Coordinating buttons
Decoupage medium & foam brush
Coordinating buttons
Hot glue gun
3 to 5 yards ribbon (depending on where you hang your garland)
To see the tutorial on how to make this, check out Little Birdie Secrets blog post on Make and Takes.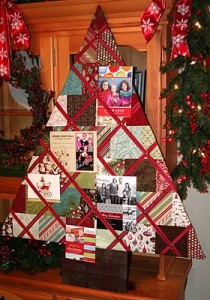 3) Christmas Tree Card Holder – This one requires sewing and quite a bit more of your time, but it is all so very worth it.
Supplies needed:
One Christmas Charm Pack ( I chose Fruitcake by Basic Grey)
1/2 yard or one Fat Quarter solid fabric for tree trunk (I used Fruitcake – Grunge in Hot Cocoa)
One piece of 1/4″ plywood or hardwood that is at least 32″ x 48″ (Home  Depot & Lowes sell pre-cut plywood that is 4 ft x 4 ft. You can get  two trees out of it.)
Thin craft Batting
7 yards 5/8″ coordinating ribbon
20 Upholstery Tacks (sold at most home improvement and craft stores)
Sawtooth picture hanger
Staple gun
Electric Saw
For a detailed tutorial with pictures on how to create this, check out Moda Bake Shop.
Thanks to all for such creative and wonderful ideas!