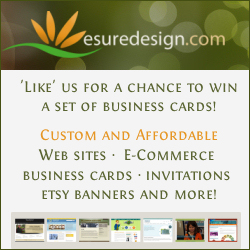 Meet Amber, the freelance designer behind our latest business of the week:  esuredesign.com! She is a work-at- home mom who has been designing web sites for the past ten years.  She caters to small business owners and other WAHM's and specializes in setting up affordable and easy to manage custom E-commerce solutions. She also has a little print shop and can design business cards  and rack cards with unique printing techniques like silk finishes and rounded corners at competitive prices!  She also offers custom invitations!
Check out her latest projects here!
How would you like to win a free set of custom business cards?  All you have to do is "like" esuredesign.com on Facebook and you're entered to win! Make sure you tell them hello from Melissa's Bargain Blog!
DISCLOSURE: This is a paid advertisement sponsored by Esuredesign.com. Although Esuredesign.com paid for this advertisement, this post was written independently by me. If you are interested in being the "Business of the Week" please check out this post here.