Here's a round up of the top Walgreens Deals for the week of 3/17!  If you are new to shopping at Walgreens, make sure you check out my tips for shopping at Walgreens here-> Tips for shopping at Walgreens
FREEBIES: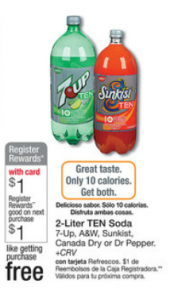 Buy 2-liter TEN Soda (includes 7-Up, A&W, Sunkist, Canada Dry or Dr. Pepper – $1, get a $1 RR
Final Price = FREE after RR
RR DEALS: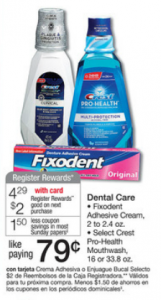 Buy select dental care products – $4.29, get a $2 RR
-includes Fixodent Adhesive Cream (2-2.4 oz), Select Crest Pro-Health Mouthwash (16-33.8 oz)
$1.50/1 Crest rinse – 3-31 PG
Final Price = $.79 after coupons and RR
BALANCE REWARDS POINTS: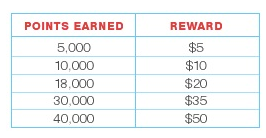 Earn Balance Rewards Points for purchasing participating items using your Walgreens Balance Rewards card.  You can get one for FREE in store!
If you use Balance Rewards Points to purchase other items that earn Balance Rewards Points, you will not receive Balance Rewards Points
If you use Balance Rewards Points to purchase items that earn Register Rewards, you should earn your Register Rewards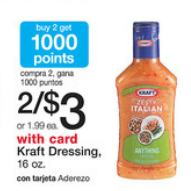 Buy Kraft salad dressing – 2/$3, get 1,000 Balance Rewards Points (equivalent to $1)
Final Price = 2/$2 after Balance Rewards Points ($1 each)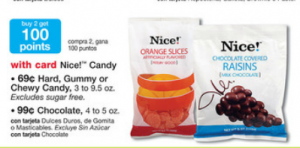 Buy 2 Nice! Hard, Gummy or Chewy Candy – $.69, get 100 Balance Rewards Points
Final Price = $.64 each after Balance Rewards Points
FILLER ITEMS: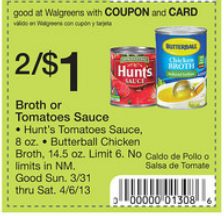 Hunt's tomato sauce or Butterball chicken broth – 2/$1 w/ in ad coupon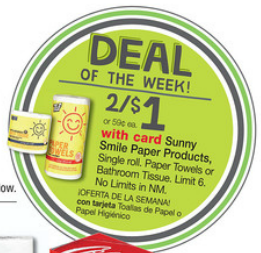 Sunny Smile paper products (single roll paper towels or bathroom tissue) – 2/$1 – limit 6
Arizona Tea or Drink – 2/$1 w/ in ad coupon
Nice! mushrooms or oranges – $.69 w/ in ad coupon
OTHER DEALS: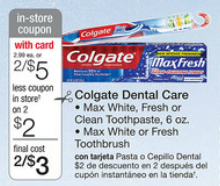 Colgate Dental care – 2/$5
-includes MaxWhite, MaxFresh, or Clean toothbrush or MaxWhite or MaxFresh coupon
$1/2 Colgate Dental Care Walgreens coupon from the monthly book found by the ads in most stores
Final Price = 2/$3 after coupon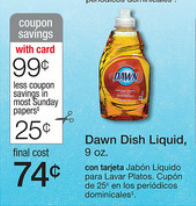 Dawn Dish Liquid – $.99
$.25/1 Dawn dish liquid – 3-31 PG
Final Price = $.74 each after coupon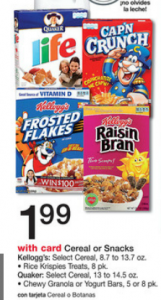 Buy Select Kellogg's cereals – $1.99 each
$1 Kellogg's Raisin Bran cash back from Ibotta
$1 Kellogg's Rice Krispies cash back from Ibotta
Final Price = as low as $.99 each after cash back from Ibotta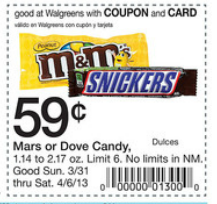 Mars or Dove candy – $.59 w/ in ad coupon
BOGO free Snickers bar coupon
Final Price = 2/$.59 after coupon ($.29/each)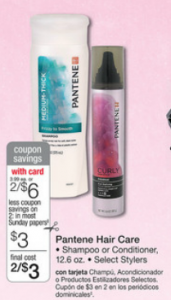 Buy Pantene Hair Care – 2/$6
-$3/2 Pantene Hair Care coupon – 3-31 PG
Final Price = $1.50 each after coupon
The following scenarios are for those who are new to shopping at Walgreens and have no RR to start with:  $12.29 in merchandise for $4.79 OOP
TRANSACTION #1:
Buy 2-liter TEN Soda (includes 7-Up, A&W, Sunkist, Canada Dry or Dr. Pepper – $1, get a $1 RR
Buy Crest Pro-Health mouthwash – $4.29, get a $2 RR
-$1.50/1 Crest rinse – 3-31 PG
Spend $3.79 OOP, get a $2 RR and a $1 RR
TRANSACTION #2:
Buy Pantene Hair Care – 2/$6
Buy 2 Butterball chicken broth – 2/$1
-$3/2 Pantene Hair Care coupon – 3-31 PG
-$2 RR and $1 RR
Spend $1 OOP
Check out Walgreens Coupon policy here–> Walgreens coupon policy here
See more Walgreens deals here–> Walgreens deals
*This post may contain affiliate links. Please refer to my disclosure policy for more information