Here's a round up of the top Walgreens Deals for the week of 3/17!  If you are new to shopping at Walgreens, make sure you check out my tips for shopping at Walgreens here-> Tips for shopping at Walgreens
RR DEALS: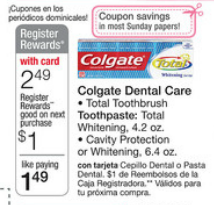 Buy Colgate Total toothbrush, Total Whitening (4.2), Cavity Protection, or Whitening Toothpaste (6.4 oz) – $2.49, get a $1 RR
$.50/1 Colgate toothbrush – 4-7 SS
$.35/1 Colgate toothpaste – 4-7 SS
Final Price = as low as $.99 after coupon and RR (when you buy a Colgate toothbrush)
BALANCE REWARDS POINTS: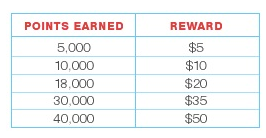 Earn Balance Rewards Points for purchasing participating items using your Walgreens Balance Rewards card.  You can get one for FREE in store!
If you use Balance Rewards Points to purchase other items that earn Balance Rewards Points, you will not receive Balance Rewards Points
If you use Balance Rewards Points to purchase items that earn Register Rewards, you should earn your Register Rewards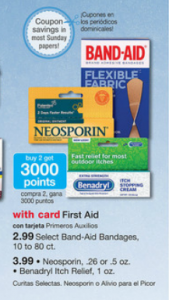 Buy 2 participating first aid products, get 3,000 Balance Rewards Points
-Band Aid bandages – $2.99
$1/2 Band Aid bandages
-Neosporin – $3.99
$2/1 Neosporin printable
$1.25 Neosporin cash back from Ibotta
-Benadryl itch relief – $3.99
$2/1 Benadryl – 4-7 RP
SCENARIO:

Buy 2 Benadryl itch relief – $3.99 each
-2 $2/1 Benadryl coupons
Spend $3.98 OOP, get 3,000 Balance Rewards Points
Final Price = $.98 after coupons and Balance Rewards Points

OR

SCENARIO:

Buy 1 Neosporin – $3.99
Buy 1 Benadryl – $3.99
– $2/1 Neosporin printable
-$2/1 Benadryl coupon
Spend $3.98 OOP, get 3,000 Balance Rewards, submit for $1.25 cash back from Ibotta
Final Price = $.27 moneymaker after coupons, Balance Rewards, and cash back from Ibotta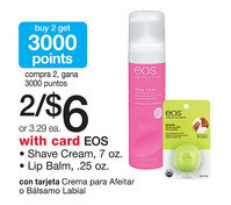 EOS Shave Cream or Lip Balm – 2/$6, get 3,000 Balance Rewards Points
Final Price = $1.50 each after Balance Rewards points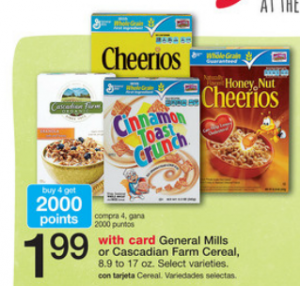 Buy 4 General Mills or Cascadian Farm Cereals – $1.99 each, get 2,000 Balance Rewards Points (equivalent to $2)
$1/2 Cheerios
$.50/1 Cheerios
$1/1 Cascadian Farms printable
Final Price = as low as $1.96 after coupons and Balance Rewards Points (when you buy 4 Cascadian Farms)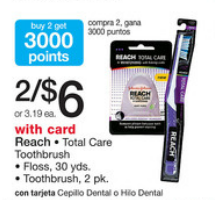 Buy Reach Total Care toothbrush (2 ct) or floss (30 yards) – 2/$6, get 3,000 Balance Rewards points
-PLUS, get a $1 RR when you buy 2, $2 RR when you buy 3, and $3 RR when you buy 4
$1/2 Reach floss coupon
$1/2 Reach Floss coupon
SCENARIO:

Buy 4 Reach floss – 2/$6

–$1/2 Reach Floss coupon
–$1/2 Reach floss coupon

Spend $10 OOP, get a $3 RR and 3,000 Balance Rewards points (equivalent to $3)
Final Price = $4 after coupons and RR ($1 each)
FILLER ITEMS: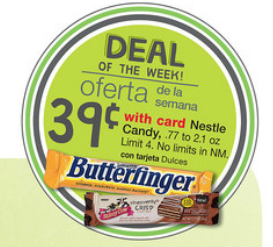 Nestle candy (.77 to 2.1 oz) – $.39 each – limit 4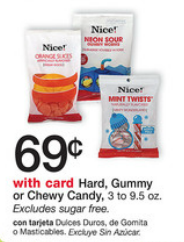 Nice! Hard, Gummy or Chewy Candy – $.69
OTHER: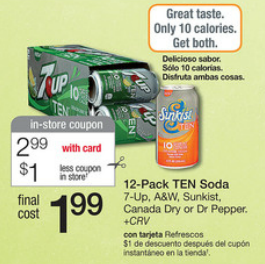 12 Pack TEN Soda:  7-Up, A&W, Sunkist, Canada Dry or Dr. Pepper – $2.99
-$1 off 12 pack TEN soda Walgreens coupon from the monthly coupon book found by the ads in most stores
Final Price = $1.99 after coupon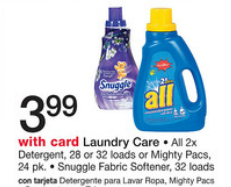 All laundry detergent (28-32 loads or 24 ct Mighty Pacs) or Snuggle Fabric Softener (32 loads) – $3.99
$2/2 All laundry detergent – 3-10 RP
$.50/1 Snuggle fabric softener – 3-10 RP
Final Price = $2.99 after coupons (for All)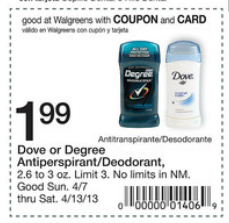 Dove or Degree antiperspirant/deodorant – $1.99 w/ in ad coupon
$1.50/2 Dove deodorant – 3-24 RP
Final Price – as low as $1.24 each after coupons
Keebler Cookies – $1.99
$1/2 Keebler cookies
Final Price = $1.49 after coupon (when you buy 2)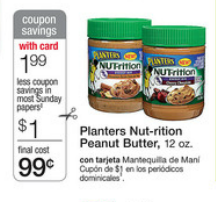 Planters Nut-rition Peanut Butter (12 oz) – $1.99
$1/1 Planters Nutrition Peanut Butter – 4-7 SS
Final Price = $.99 after coupon
Viva Paper Towels (6 ct) – $5.99
$1/1 Viva Paper Towels big rolls – 3-17 SS
$1/1 Viva Paper Towels Walgreens coupon from the monthly coupon book found by the ads in most stores
Final Price = $3.99 after coupons
The following scenarios are for those who have few, if any RR to start with: $10.47 in merchandise for $4.72 OOP after coupons and cash back, $1 RR left to spend 
TRANSACTION #1:
Buy 1 Neosporin – $3.99
Buy 1 Benadryl – $3.99
– $2/1 Neosporin printable
-$2/1 Benadryl coupon
Spend $3.98 OOP, get 3,000 Balance Rewards, submit for $1.25 cash back from Ibotta
TRANSACTION #2:
Buy Colgate Total toothbrush – $2.49, get a $1 RR
$.50/1 Colgate toothbrush – 4-7 SS
SPEND $1.99 OOP, get a $1 RR

Check out Walgreens Coupon policy here–> Walgreens coupon policy here
See more Walgreens deals here–> Walgreens deals
*This post may contain affiliate links. Please refer to my disclosure policy for more information