It's another great week at Target!
Make sure you sign up with Shopkick to earn free Target gift cards! Earn points for walking in to your store and scanning items at your local store. Find out more about Shopkick here–> Shopkick Registration
Find out how I scored 5 boxes of cereal for free at Target last week thanks to Shopkick here–> How I Shop for Free at Target
You can grab this freebie on razors this week: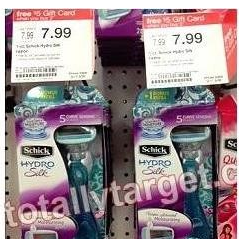 Buy 2 Schick Hydro Silk Razors – $7.99 each, get a $5 Target gift card!
$4/1 Schick Hydro Silk Razor or Refill – 3-24 SS
$5/2 Schick Hydro Silk Cartridges or Razors Target coupon
Spend $2.98 OOP, get a $5 Target gift card
Final Price = $2.02 moneymaker after stacked coupons and gift card!
NOTE: I always try to keep a Target gift card on hand to "roll" into deals like this one!
You can still get these freebies from previous weeks: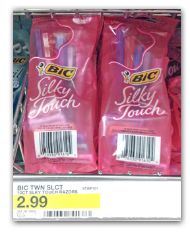 Bic Silky Touch Razors (10ct) – $2.99
$3/1 Bic Disposable Razor – 3-17 SS
Final Price = FREE after coupon
Bounce Dryer Sheets (34 ct) – $1.97
$3/3 Tide Detergent, Tide Boost, Downy, or Bounce Product, exp. 3/31/13 (P&G 03/03/13)
$3/3 Laundry Care Items Target coupon, exp. 4/6/13 (SS 03/03/13)
Final Price = FREE after coupon!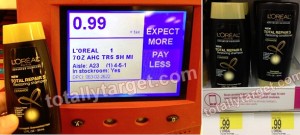 Loreal Advanced Hair Care Trial Size, (1.7o oz) – $.99
$1.00/1 Loreal Advanced Hair Care – 2-17 RP
$1.00/1 Loreal Product Coupon
Final Price = FREE after coupon!
Neutrogena Facial Bar Soaps – $2.09
-$5/2 Neutrogena from 2/24 SS (exp 4/27)
Final Price = 2 for FREE after coupon!
OTHER DEALS: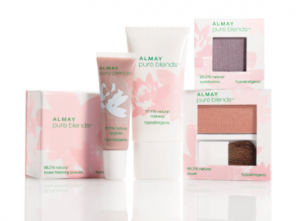 Almay Intense i-Color Shimmer Eye Shadow – $4.74 (thru 4/13)
$5/2 Almay Cosmetic products coupon
$1/1 Almay Intent i-color cosmetics Target coupon
Final Price = $3.48 for both ($1.74 each)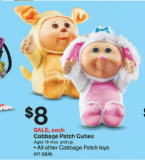 Cabbage Patch Cuties – $8
$2/1 Cabbage Patch Cuties coupon
Final Price = $6 after coupon
UNDER $1 DEALS:

Birds Eye Steamfresh Vegetables – 5/$5
-$.50/2 Birds Eye Steamfresh from 3/24 SS (exp 4/30)
$0.50 Birds Eye Steamfresh 8oz+ cash back from Ibotta(excludes rice blends)
Final Price = as low as $.25 each after coupon and cash back from Ibotta

1 dozen Grade A large eggs – $.99 each
Maybelline New York Single Eyeshadow – $2.94
–$1.50 off Maybelline New York Shadow or Liner
–$1 off Maybelline (Target Store Coupon)
Final Price = 44¢ after stacked coupons!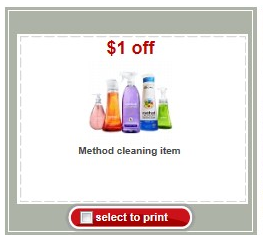 Method Cleaning Items – $2.66 each
-includes glass cleaner, multipurpose surface cleaner, dish soap, and more!
$1/1 Method product coupon
$1/1 Method cleaning item Target coupon
Final Price = $.66 each after stacked coupons
Paas Egg Decorating Kit – $1.50
–$1/2 Paas Egg Decorating Kits coupon
Final Price = $1 each after coupon
See my current Target deals here–> Target Deals
See more printable coupons here–> Printable coupons
(Thanks Totally Target!)
*This post may contain affiliate links. Please refer to my disclosure policy for more information