Target is the place to be this week!  You can score stock up deals on Schick razors, Robitussin and cereal, too!  To get the most from the gift card offers this week, you can "roll" your gift cards from one deal into another deal!
Make sure you sign up with Shopkick to earn free Target gift cards!  Earn points for walking in to your store and scanning items at your local store.  Find out more about Shopkick here–>  Shopkick Registration
Here are the deals you can score this week:
Buy 2 Schick Hydro Silk Disposable Razors (3 ct) – $9.49, get a $5 Target gift card
-2 $4/1 Schick Hydro Silk razor coupons
OR use $4.00/1 Schick Hydro 5 or Hydro Silk Disposables Pack from SS 2/10 (exp 3/24)
Pay $10.98 OOP, get a $5 Target gift card
Final Price = $5.98 after coupons and gift card ($2.99 each or $.49 per razor!)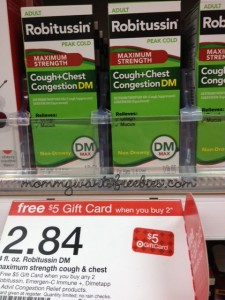 Buy two Robitussin DM Maximum Strength Cough & Chest – $2.84 each, get a $5 Target gift card
-2 $1/1 Robitussin coupons (sort by Healthcare)
Spend $3.68 OOP, get a $5 Target gift card
Submit your receipt to ibotta and get back another $1 (you will need to complete the Ibotta offer on your phone before you go)
Final Price = FREE plus $2.32 moneymaker!

Buy Select General Mills cereals – $2.50 each, get a $5 Target gift card
Here's a scenario for you:
Buy 3 Honey Nut Cheerios Medley Crunch cereal – $2.50
Buy 2 Fiber One cereal – $2.50
–$1/3 General Mills cereals Target Coupon
-3 $.75 off Honey Nut Cheerios Medley Crunch cereal
-2 $1/1 General Mills Fiber One Cereal
Spend $7.25 OOP, get a $5 Target gift card
Final Price = $2.25 after coupons and gift card ($.45 per box!)
You can also use these coupons for this deal:
$.50 off ONE BOX Cinnamon Toast Crunch cereal 
$.75 off 1 BOX Peanut Butter Toast Crunch™ cereal 
$.50 off ONE BOX Chex cereal 
$.50 off ONE BOX Original Cheerios cereal 
$.75 off Honey Nut Cheerios Medley Crunch cereal 
$1/1 General MillsPeanut Butter Toast Crunch
$1/3 General Mills Big G Cereals LOTS of varieties included 02-03-13 SS
$0.50/1; $1/2 Cheerios Original Cereal, any – 01-27-13 SS
$0.75 off Fiber One 80 Calories Chocolate cereal
$1/1 Fiber One 80 Calorie Chocolate Cereal or HERE or HERE
$1/1 General Mills Multi Grain Cheerios or Multi Grain Cheerios Peanut Butter Cereal
See my current Target deals here–> Target Deals
See more printable coupons here–> Printable coupons
(Thanks Totally Target and Mommy Wants Freebies!)
*This post may contain affiliate links. Please refer to my disclosure policy for more information