It's another great week at Target!  Here's the most updated free and under $1 deals list!
Make sure you sign up with Shopkick to earn free Target gift cards!  Earn points for walking in to your store and scanning items at your local store.  Find out more about Shopkick here–>  Shopkick Registration
You can also get a FREE $2 Target gift card from Shopkick–> Free Target gift card from Shopkick
Find out how I scored 5 boxes of cereal for free at Target thanks to Shopkick here–> How I Shop for Free at Target
FREEBIES:
Duncan Hines Frosting Creations Frosting Flavor Packet – $.84
FREE Duncan Hines Frosting Creations Flavor Mix (up to $1) – 3-17 SS
Final Price = FREE after coupon
Folgers Coffee Crystals – $1
–$1.50/1 any Folgers Product printable
Final Price = FREE after coupon
UNDER $1 DEALS: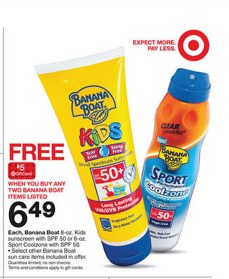 This deal on Banana Boat sunscreen comes just in time for Memorial Day weekend and summer fun!  My kids have their first swim meet this weekend, so I will definitely be taking advantage of this deal!
Here's the breakdown on this deal:
Buy 2 Banana Boat Sunscreens – prices start at $6.49, get a $5 Target gift card 
–$2 Target Coupon
5% off Cartwheel Coupon
-2 $2/1 Banana Boat Product – 4-21 RP (there was also a $3/2 coupon in the 5-19 RP if you missed this one)
Spend $6.34 OOP, get a $5 Target gift card
Final Price = $1.34 after coupons and gift card, THEN submit for the $.75 Ibotta deposit, which makes these just $.29 each after coupons, gift card and Ibotta deposit
Benadryl Itch Stick – $2.39
-2/1 Benadryl Topical Product – 4-7 RP
Final Price = $.39 each after coupon
Market Pantry Pasta – $1 each
$1/3 Market Pantry Pasta Target Coupon
Final Price = $.67 each when you buy 3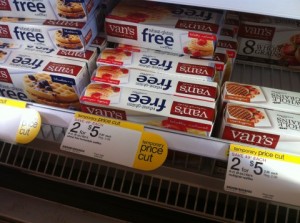 Van's Waffles – $2.50
$2/1 Van's Coupon Facebook
Final Price = $.50 each after coupon
This is not under $1 but it's still a great deal:
Buy 3 Aveeno cleanser or daily lotion products – $6.49/each, get a $5 Target gift card
$2.00/2 Aveeno Product – 4-7 RP
$2.00/1 Aveeno Facial Care Product printable
$3.00/2 Aveeno Target coupon
Spend $10.47 OOP, get a $5 Target gift card
Final Price = $5.47 OOP after coupons and gift card (that's just $1.82 each!)

See my current Target deals here–> Target Deals
See more printable coupons here–> Printable coupons
(Thanks Totally Target, Couponing to Disney, and MyLitter!)
*This post may contain affiliate links. Please refer to my disclosure policy for more information