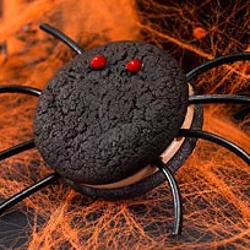 I am so excited that Halloween is almost here!  I love finding and making all the fun and yummy treats out there for the holiday.  This recipe is actually a spin on the traditional oreo cookies we make the rest of the year.  The best part about these cookies is that you can color the  frosting/filling to match any holiday.  We do red and green for Christmas, pink and yellow for easter, red and blue for Independence day… The possiblities really are endless.
Here is what you will need to make these Homemade Oreo Cookie Spiders:
1 Devil's food cake mix
1/2 cup Shortening
2 Eggs
Black string licorice
Red decorating gel or small red candies
Here is what you need to make the frosting:
8 oz Cream Cheese
2 sticks of Butter
2 Tsp. Vanilla
2 to 4 cups Powdered Sugar (Icing Sugar)
Food coloring
Here is how you make the cookies:
Cookies:
Mix all cookie ingredients together (cake mix, shortening, eggs).   If dough is too sticky, refrigerate for a while.   Roll the dough into dime-sized balls and place on a cookie sheet.   Bake at 350 degrees for 8 minutes.   Cool cookies.
Frosting:
Mix all frosting ingredients until smooth (cream cheese, butter, vanilla, powdered sugar).   If it is too thick, thin with vanilla.   Once you have the desired consistency, mix in food coloring until you have reached your desired color.  Frost the backs of cookies and place them together to make sandwich cookies.  Then cut licorice into 1 inch pieces and place them into the frosting on the sides of the cookies to create spider legs.  Then, use decorating gel or red candies to create eyes on one side of the cookie.