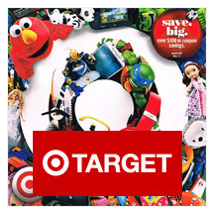 The Target Toy Book Sneak Preview is now LIVE!  It's filled with 54 PAGES of deals!  Coupons and prices are valid in stores and online from 10/30/13 through 11/27/13.  In the past, I have been able to knock several items off my shopping list early and get prices that were better than Black Friday!  Plus, my kids love to use it to make their Christmas wish lists!
Catalogs should be arriving in mailboxes soon and in the past when these catalogs have come, they have included a sticky coupon on the bag for $5 off a $50 purchase or for a free $5 Target gift card with a purchase of $50 or more.  I don't know if they'll be offering that this year – I hope so, though!  Let me know if you get one!
Guess what?  Everything in the toy catalog will ship for FREE!
Check out my post here to find out more ways to save at Target–> Five Ways to Save MORE at Target
Click here to see the ad scan–> Target Toy Book Preview
Here are the coupons that are included:
Apple iPods – 10% off
Barbie – $5 off $19+ purchase
Crayola items – $5 off $19+ purchase
Disney Infinity – $5 off $24.99+ purchase
Disney Princess items – $5 off $19+ purchase
Dora the Explorer – $5 off $19+ purchase (includes clothing and DVDs)
Fisher Price – $5 off $19+ toy purchase
Fur-Real Friends – $5 off $19+ purchase
HEXBug – $5 off purchase of $19+
Hot Wheels – $5 off purchase of $19+
Lalaloopsy – $5 off $19+ purchase
Leap Frog – $5 off $19+ purchase
LEGO® Friends or LEGO® toys – $5 off purchase of $29+
Mega Bloks toys – $5 off purchase of $19+
Monster High toys – $5 off $19+ purchase
My Little Pony – $5 off $19+ purchase
NERF toys – $5 off purchase of $19+
NERF Rebelle – $5 off $19+ purchase
Playskool Heroes – $5 off $19+ purchase
Power Rangers toys – $5 off purchase of $19+
Razor items – 20% off $39+ purchase
Skylanders – $5 off purchase of $24.99+
Teenage Mutant Ninja Turtles – $5 off purchase of $19+

Black Friday will be here before you know it!  Make sure you bookmark this page to stay in the loop on all of the latest Black Friday deals–> Melissa's Bargains Black Friday Deals
You can also follow my Black Friday Deals board on Pinterest to stay in the loop–> Melissa's Bargains Black Friday Deals on Pinterest