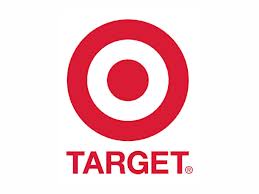 I have been LOVING all of the great Target deals lately!  Check out all of the awesome deals you can score this week!
TARGET FREEBIES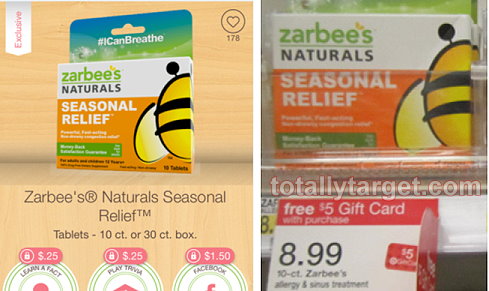 Buy 1 Zarbee's Allergy & Sinus Treatment (10 ct) – $8.99
–$3/1 Zarbees's Seasonal Relief coupon
Spend $5.99 OOP, get a $5 Target gift card
Submit for $2 cachback wyb Zarbee's natural Seasonal Reliefs Tablet 10 or 30 ct. box with Ibotta
Final Price = FREE + $1.01 money maker after coupon, gift card, and cash back!
TARGET UNDER $1 DEALS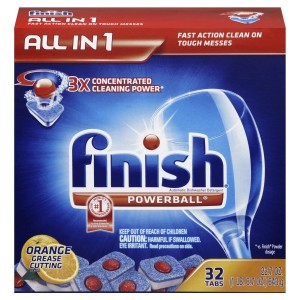 Buy Finish Power & Free Powerball Dishwasher Tabs (17 ct) – $3.99
–$2/1 Finish Power and Free Detergent or Power and Free Rinse Aid coupon
–$1/1 Finish Power & Free Dish Detergent Target printable coupon
Final Price = $.99 after coupon
Buy 4 Quaker Big Chewy Bars – $2.19 per box (*there is a buy 3, get 1 free store promotion this week)
-3 $1/1 Quaker Big Chewy Bars coupon – 5-4 RP
Final Price = $3.57 after coupons and store promotion ($.89 per box)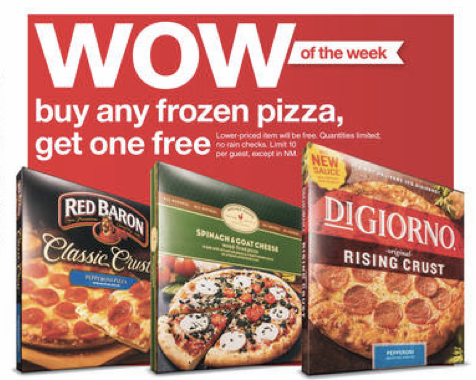 Target is having a BOGO free pizza sale!  You can score some AWESOME deals on frozen pizza this week!  Time to stock your freezer!
Deal Idea #1:
Buy 2 Archer Farms Frozen Pizzas – $4.50 each
-$1/1 Archer Farms Frozen Pizza or Flatbread Target Mobile Coupon (text OFFERS to 827438)
5% Off Archer Farms Frozen Pizza & Flatbread Cartwheel Savings Offer (will deduct $0.18)
Final Price = $3.32 for both ($1.60 each)
Deal Idea #2:
Buy 6 Tombstone Multi Serve Pizzas –  $3.49 each
–$1/3 Tombstone Original frozen pizzas 12 inch+ Target coupon
-3 $.75/1 Tombstone Pizza coupons – 4-27 SS
Final Price = $7.22 out of pocket ($1.20 per pizza)
Deal Idea #3:
Buy 2 DiGiorno Design a Pizza Kits – $5.49 each 
–$1/1 DiGiorno Design A Pizza kit Target Coupon
–$1/1 Digiorno Large Pizza coupon
Final Price = $3.50 total for both ($1.75 per pizza)
Deal Idea #4:
Buy 4 California Pizza Kitchen Multi Serve Pizza – $5.49 each
–$1.50/2 California Pizza Kitchen frozen pizzas 11″+ Target store coupons
-2 $1.50/1 California Pizza Kitchen coupons
Final Price = $6.48 for 4 pizzas ($1.62 each!)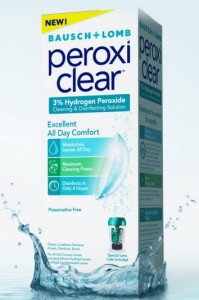 Buy 1 Bottle of Bausch + Lomb PeroxiClear Contact Lens Solution (3 oz) – $1.99
Pay $1.99
Then, get back TWO $2/1 PeroxiClear Contact Lens Solution Catalina coupons at the register!  This means you can get 3 bottles of contact solution for $1.99 out of pocket!!
Buy 2 Participating Coppertone Products, get a FREE $5 Target Gift Card
Buy 2 Coppertone Sport Sunscreen Sticks (0.6 oz) –  $4.99 each
–5% Coppertone Products Target Cartwheel (will deduct $0.49!)
-2 $1/1 Coppertone Product coupons
Spend $7.29 OOP, get a $5 Target gift card
Final Price = $2.29 after coupons and gift card (just $1.15 each)
NOTE:  You can "roll" gift cards from previous deals into this one to save more money!
A few things to keep in mind:
Pricing and availability may vary by location
You can only use one "like" Target coupon per transaction

Save even MORE at Target and get free Target gift cards when you get the Shopkick app for your Smartphone!  Earn "kicks" for walking into the store and scanning items in the store!  They add up quickly and you'll get 50 kicks just for signing up here–> Shopkick Registration
Also check out this post–> Five ways to save MORE Money at Target
(Thanks Totally Target!)
*This post may contain affiliate links.  Please refer to my disclosure policy for more information.