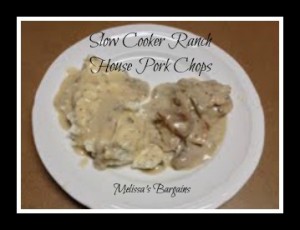 I found this recipe for Slow Cooker Ranch House Pork Chops on Pinterest awhile ago.  It reminded me of the recipe for Slow Cooker Cream Cheese Chicken that my family loves, so we've been wanting to try it.  Everyone loved it and it's funny because we had this two nights ago, but my husband is still talking about it!  You can use the leftover sauce from cooking the pork chops as a "gravy" for the mashed potatoes!
Here's my recipe including adaptations:
Slow Cooker Ranch House Pork Chops
Prep time:
Cook time:
Total time:
Ingredients
4-6 pork chops
1 can Cream of Mushroom & Garlic soup (the original recipe calls for regular cream of mushroom soup, but I think this gives it added flavor)
Ranch dip seasoning packet
Instructions
Place the pork chops in the bottom of the slow cooker. Pour the ranch dip seasoning packet evenly over the pork chops. Add the cream of mushroom and garlic soup. I added two cans to make sure there was enough moisture since I knew I was going to be gone all day.
See more slow cooker recipes here–> Slow cooker recipes
See my weekly menu plan and get meal planning inspiration here–> Menu Plan Monday