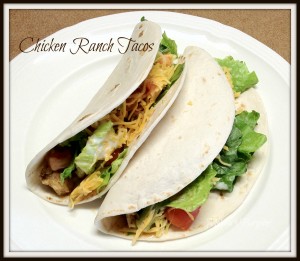 One of my favorite things to eat at Chili's is the Chicken Club Tacos.  I found the inspiration for this recipe on Pinterest and figured I could change it up to make it similar to the Chicken Club Tacos at Chili's.  This was a HUGE hit with my family.  Both of my kids, who are incredibly picky eaters at times, raved about how much they loved it. There were no leftovers and the kids were fighting over who would get seconds!  The best part?  It's SUPER easy to make!
Ingredients:
Chicken breasts (2-3, I used frozen)
Taco seasoning packet (I used half)
Ranch dip packet (I used half)
1 can chicken broth
Flour tortillas (you could also use hard taco shells)
Toppings of choice: lettuce, tomatoes, cheese, etc.
Ranch dressing
Directions:
Place chicken breasts, taco seasoning, ranch dip mix, and chicken broth in a slow cooker on low for 6-8 hours. Shred meat before serving and fill taco shells with toppings of choice.
I also made guacamole to go with ours. I used 2 small avocadoes, half of a tomato, 1 T lemon juice, 1 T lime juice, garlic powder (to taste), dash of pepper, onion salt (to taste), and 1 T sour cream.
Next time, I'm going to use the recipe for Chipotle dressing from Our Best Bites because I think it will be similar to the ancho-chili ranch dressing at Chili's which is AMAZING.
Here are the ingredients needed if you want to make that:
1/3 c. chopped fresh cilantro
2/3 c. light sour cream
1 1/2 + tsp. adobo sauce from canned chipotle chilies
1 tsp. chili powder
4 tsp. fresh lime juice
¼ tsp. salt
You can find the directions here–> Our Best Bites Chipotle dressing (I think this chicken would go awesome with their Chipotle Chicken Taco salad, too!)
If you make this recipe, let me know what you think!
Original Recipe Inspiration:  Do You Smell That?
*This post may contain affiliate links!  Please refer to my disclosure policy for additional information!