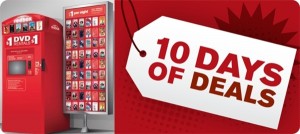 Through May 25th, Redbox is offering a daily discount! To take advantage of this deal, just text the word DEALS to 727272.  Your daily discount will be anywhere from $.10 to $1.50!
*Daily deal codes expire at 11:59 PM on June 1, 2011 and are available while supplies last. Limit 1 code per day. 1 time use only. Valid for between a $.10 and $1.50 discount off the daily rental fee for the item rented at a participating kiosk for the first night of rental. Any discount left over from the first item rented may be applied to another item rented during the same transaction or it is lost. Code not valid for items reserved online or for prior rentals.
Here are a few other promotional codes that may work if you haven't used them before: (you can use them once per credit card)  Redbox now carries Blu Ray movies, too.  Blu Ray rentals are $1.50/each, so these codes will deduct $1.
BREAKROOM (works at McDonald's)
DVDONME
For use at Walgreens only: DVDATWAG
For use at Kroger family of stores only:  DVDKROG
**You can use these codes once per card (you do have to swipe a credit or debit card to "rent" the movie and you will be charged $1 per night if you do not return the movie before 9 p.m. the following day).
To learn more about Redbox (
or to find a location, see what's available, or reserve a selection online
), check out their blog here and their site 
here
.
*This post may contain affiliate links. Please refer to my disclosure policy for more information.