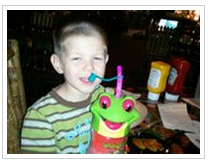 My kids LOVE Rainforest Cafe, but we don't go there very often because it's not cheap!  Today we were supposed to go see The Secret World of Arrietty premiere today, but thanks to wonderful Houston traffic, we didn't make it in time and they were incredibly disappointed.  I told them we could do something else fun instead and so of course, my daughter suggested Rainforest Cafe and was SHOCKED when I gave in!  Of course, she didn't know that the only reason I was giving in was because I had coupons and a gift card, so it was all FREE!
Here's how you can get free food, too:
When we have eaten at Rainforest Cafe in the past, they have given us the opportunity to sign up for their mailing list.  They send us coupons when my kids have a birthday coming up and at other times during the year.  My son has a birthday coming up, so we had just gotten a coupon for a free kids meal at Rainforest Cafe and a coupon for $5 off a purchase of $20 or more.  Both coupons can be used together, so it's like we're getting two kids meals for free already!
I also had a $50 Rainforest Cafe gift card that I had gotten from MyPoints.  If you're not familiar with MyPoints, you earn points for completing surveys, reading e-mails, and making purchases online.  You can cash out your points for gift cards and I always use mine to get gift cards for restaurants so I can treat my family to a night out.  I had recently cashed out for a Rainforest Cafe gift card, so the rest of the meal, including the tip was FREE!
If you're not signed up with MyPoints yet, you can find out more about it and sign up here–>MyPoints registration
I've been a member for several years now and cash out for gift cards a few times each year!
Now you can get free food at Rainforest Cafe, too!
*This post may contain affiliate links. Please refer to my disclosure policy for more information