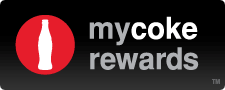 I'm a huge fan of My Coke Rewards!  I've gotten lots of great freebies including McDonald's gift cards, Domino's Pizza gift cards, and coupons for free Coke products using the points I've earned!  Right now, you can earn 70 free My Coke Rewards points!
Here's how you can grab your points:
1.  Click here to register if you haven't already (it's completely FREE!)–> My Coke Rewards registration!
2.  Register for Southwest Airlines Rapid Rewards for 60 bonus points (also free)–> 60 My Coke Rewards bonus points
NOTE:  You must use this link to get your bonus points!
3.  Register to receive e-mails from Duncan Donuts here for 10 bonus points–> 10 My Coke Rewards bonus points
See all my current freebie posts here–> Freebies 
NOTE:  It may take up to 7 days for these bonus points to appear in your account!
*This post may contain affiliate links. Please refer to my disclosure policy for more information.