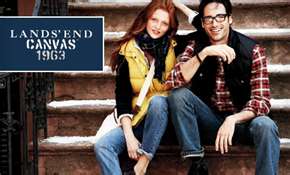 Living Social has a HOT daily deal today:  You can get a $60 Land's End Canvas credit for just $30!  (I know I said $25 in my title – don't worry – I'm going to tell you how to get it for that price!)
Here's how you can make the most of this deal:
1.  Log into your Living Social account here.  If you don't have a Living Social account yet, you can sign up for one here.  You'll get a $5 bonus just for signing up!  That's where the $25 comes in!
2.  Once you are signed up for your Living Social account, click here to access the deal.
3.  Click on the blue "Buy Now" button and complete the payment information!  Your voucher should be "active" and listed in your account under "My Vouchers" within 24 hours.
4.  Share the deal with your friends!  If three of your friends grab this deal, it's FREE for you!
(Thanks Here's the Deal!)
*This post may contain affiliate links. Please refer to my disclosure policy for more information