s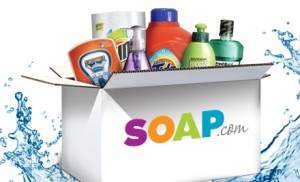 Living Social has a GREAT deal today:  You can get a $20 Soap.com voucher for just $10! Plus, when you spend $25 or more, your shipping will be FREE!  I love Soap.com and I'm really excited about this deal!  I plan on getting Tide with mine – it's my favorite laundry detergent and there haven't been many deals lately, so it'll be like I'm getting it for 50% off!
Here's the breakdown on how you can grab this deal:
1.  Log into your Living Social account here (if you don't have a Living Social account yet, you can create one here – you'll get $5 in "Deal Bucks" just for signing up!)
2.  If your page does not default to Seattle as the city when you log in, click on the "More Cities" tab on the left and then click on Seattle.
3.  Click on the blue "Buy Now" button and fill in your payment information.
4.  Share your link with your friends on Facebook, Twitter, of by e-mail:  if three people sign up using your link, you'll get the deal for FREE!
Here's the fine print:
Offer only applies to the following brands: Accu-Clear, Align, Always, Ariel, Aussie, Bold, Bounce, Bounty, Braun, Camay, Cascade, Charmin, Cheer, Clairol, Clearblue Easy, CoverGirl, CoverGirl & Olay, Crest, Dawn, Downy, Duracell, Era, Fact Plus, Febreze, Fixodent, Gain, Gillette, Gleem, Head & Shoulders, Herbal Essences, Ivory, Ivory Snow, Joy, Metamucil, Mr. Clean, Olay, Old Spice, Oral B, Pantene, Pepto-Bismol, Prilosec, Puffs, Pur, SafeGuard, Scope, Secret, Swash, Swiffer, Tampax, Tide, Tide To Go, Vicks • Limit one per household, buy 1 additional as a gift • Shipping and handling charges are not included and will be calculated at time of checkout • Free overnight delivery on your order of $25 or more • Delivery times may vary – some areas may receive two-day delivery; other restrictions may apply • Soap.com vouchers are sold by Living Social, an authorized reseller of Soap.com vouchers • Soap.com vouchers may only be used to purchase eligible goods on Soap.com • Vouchers cannot be redeemed for purchases of gift certificates and can only be applied to one order; the full value must be redeemed in a single transaction • Vouchers cannot be reloaded, resold, transferred for value, redeemed for cash or applied to any other account • Vouchers cannot be combined with any other offer, discount, or promotion • Soap.com is not responsible if a Voucher is lost, stolen, destroyed, or used without permission • Other conditions apply • Promotional value expires on December 30, 2011
What are you going to buy with your voucher?
*This post may contain affiliate links. Please refer to my disclosure policy for more information