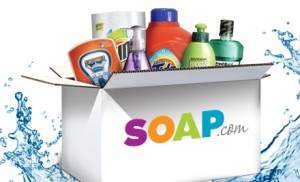 If you haven't used Soap.com before, there is a super HOT deal on Gilt (formerly BuyWithMe.com) where you can get a $20 Soap.com voucher for as low as $8!
If you're new to Gilt, click here to register and you'll get 20% off your next purchase–>Gilt.com registration
If you're already registered with BuyWithMe.com or Gilt, click here to access the Soap.com deal–> $20 Soap.com voucher for $10
I LOVE Soap.com and have ordered many items from them in the past including laundry detergent, Ziploc bags, shampoo, and vitamins. Now they carry grocery items, too!
Once you order this voucher, click here to place your order–>Soap.com
Here's the "fine print" on this deal:
Offer is final sale and nonrefundable. Offer must be redeemed by February 2, 2012.
*Soap.com Vouchers are sold by Gilt Groupe, an authorized reseller of Soap.com Vouchers. Soap.com, the Soap.com logo and the Soap.com logo are trademarks of Soap.comSoap.com vouchers may be used only to purchase eligible goods on Soap.com. Vouchers cannot be redeemed for purchases of gift certificates and can only be applied to one order. The full value must be redeemed in a single transaction. Vouchers cannot be combined with any other offer, discount or promotion. Limit one voucher redemption per household. Vouchers cannot be reloaded, resold, transferred for value, redeemed for cash or applied to any other account. Soap.com is not responsible if a voucher is lost, stolen, destroyed or used without permission.