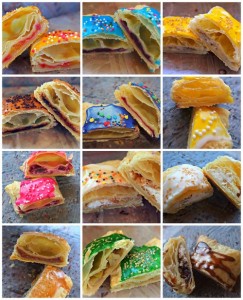 I love Poptarts.  I grew up eating them for breakfast almost every morning, but I just can't bring myself to feed them to my children.  They are just so high in sugar, among other things, and I like to send my kids out the door in the morning with something a bit more substantial.  I came across these homemade poptarts on pinterest and I can't wait to try them out.  I'm thinking we could make a bunch over the weekend and then they would be good to go all week long.  My kids will love getting to pick/make their own fillings.  I also might not use the glaze on top.  Thanks Undressed Skeleton!
Here's what you need to make these:
Pastry Dough:
1 Cup Whole Wheat Flour
1 Cup White Flour
2 Tbsp Baking Stevia
1/2 Tsp Salt
1/4 Cup Plain Chobani
1/4 Unsalted Butter Diced at Refrigerator Temp.
3 Tbsp Skim Milk
Glaze:
2 Cups Powdered sugar
2 Tbsp Meringue Powder
4 Tbsp Water
Sprinkles of course!
Toppings:
Whatever you wish.  Follow the tutorial link for 12 filling suggestions.
Here's how to make them -> Homemade Poptarts Tutorial