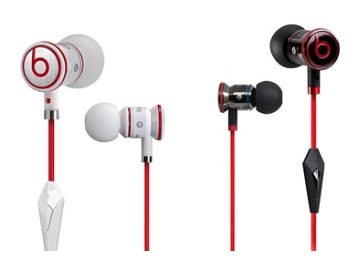 Groupon has some AMAZING deals on Beats  by Dre headphones!  Get these Beats iBeats In Ear Headphones for just $49.99!  That's 50% off!
Click here to check it out–> Beats iBeats In Ear Headphones
You can also get these deals:
Beats by Dre Powerbeats In-Ear Headphoens with Mic – $89.99
Beats by Dre HD Drenched Headphones – $129.99
Beats by Dre Mixr DJ-Style Headphones – $199.99
Beats by Dre Gold Mixr Headphones with Control Talk Mic – $189.99
Beats by Dre Pro over-Ear Headphones with Inline Microphone – $299.99
Beats by Dre 2.0 In-ear Headphones with Mic – $114.99
They've got GREAT deals on plenty of other gifts, too!