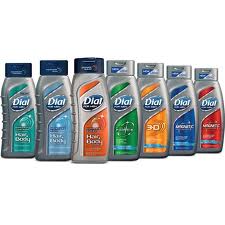 We ran out of printer paper earlier this week and I still haven't made it to the store to get some more and I'm kicking myself this morning because there are so many awesome coupons including a coupon for $2 off any Dial for Men Body Wash!  You can get body wash for as low as $.90 after coupon, which is a stock up price for me!
Click here to grab this coupon–> $2 off any Dial for Men Body Wash coupon
You do have to have a Facebook account to access this coupon and it says you have to make a "dirty declaration"  but you can still print the coupon without doing this (just skip to step 2).  You should be able to print two coupons per computer/Facebook account if you actually have paper to print!
If you don't have a Facebook account, you can still get this coupon–> $2/2 Dial Body Wash coupon
Here are two great deals that you can score using this coupon:
Walgreens:  this deal ends today (9/29)
Buy 2 Dial for Men body wash – $5.79 (on sale BOGO free)
Use 2 $2 off any Dial for Men Body Wash coupon
Final Price = $1.79 OOP for both ($.90 each)
Walmart:
Buy Dial for Men body wash – $2.97
Use $2 off any Dial for Men Body Wash coupon
Final Price = $.97 each after coupon
(Thanks Addicted to Saving and Mojo Savings!)
*This post may contain affiliate links. Please refer to my disclosure policy for more information