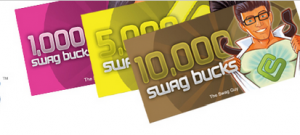 There's a Swag Code on the Swagbucks blog that's worth 9 Swagbucks and is valid until 11 a.m. PDT (that's 2 pm ET).
If you're not using Swagbucks yet, you're missing out on FREE gift cards! I've been using them for more than three years now and have paid for most of my family's Christmas using Amazon gift cards I've earned! You can also get gift cards to favorite restaurants such as Chili's or to retail stores like Gap and Walmart. They even have iTunes gift cards!
If you haven't signed up with Swagbucks yet, you can get 100 bonus Swagbucks (normally the new member bonus is 30) just for signing up here–> Swagbucks registration
To take advantage of the 100 bonus Swagbucks, enter the code SAVVY2012 when you register!
Here are more ways to earn:
Watch Swag TV – you earn points just for watching funny videos!
Play Games – earn points by playing games through the site!
Do a few searches every day until you win at least once – I search for things that I would normally be searching for online anyway and I have found that I can easily earn 10-30 Swagbucks each day by doing this. Your searches do need to be "natural" searches. If it does not seem like your searches are legitimate, they may freeze or even close your account.
If you have a Facebook account, become a "fan" of Swagbucks on Facebook – You'll receive notifications about Swag codes, Swag hunts, and special offers through the Swagbucks page on Facebook!
Publish your Swagbucks winnings on Facebook – when you "win" a buck, you now have the option of posting your win on Facebook. It shows up on your profile and it's another way to promote your Swagbucks account.  When your friends sign up under you, you win when they win for the first 1,000 Swagbucks!
Read the Swagbucks blog – Bonus codes are posted here and you'll get the heads up on newpromotions, too!
Download the Swagbucks Toolbar onto your internet browser – Click on the "toolbars" option on the left hand side of the website after you log in and follow the instructions! (you will earn one buck each day just for using the toolbar)
*This post may contain affiliate links. Please refer to my disclosure policy for more information.